Suffolk student wins big at CollegeFest
By: Ethan Long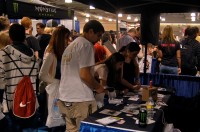 For the past 24 years, CollegeFest has attracted students from Boston area colleges and universities to its annual two-day event held at the Hynes Convention Center. Inside, different companies showed off new technologies, deals, and freebies for students in Boston, and entertainers, including dance crews and bands, performed for the crowds. Exhibitors grabbed students' attention to their booths with games, contests, and free swag, or promotional items. One of the contests, an 11-day round trip around Europe, was raffled off and won by Suffolk freshman Sarah Baker.
"I've never won anything before in my life so, it was insane, I can't describe the feeling. I didn't even enter for the trip, I didn't know it was a trip, I just entered because I really wanted to try skydiving, so right before Talib Kweli came on, they called my name and I screamed. It was probably the best day of my life," Baker told the Journal.
CollegeFest's entrance turned into a mess of exhibitors and students. Representatives handed students bags filled with freebies while the students walked onto the floor. Booths ran down in rows with groups of students forming lines everywhere. Many of last year's exhibitors returned, like Monster Energy Drink, whose booth once again featured samples with booth girls handing out cans to students as they passed by.
Booths representing many drink companies, from energy drinks to water purifiers, spanned the entire convention floor, offering drinks for those who needed a thirst quencher.
Nature's Blend, a brand of flavored Poland Spring water, handed out cups of samples. According to Sean Richman, a representative manning the booth, Nature's Blend "is all natural spring water made with fruit flavors and no preservatives. It's good for you. Drink good, live good."
Other beverage company representatives in attendance included Muscle Milk, Sweet Leaf Tea, and Drank, an energy drink supposed to "slow your roll." According to drankbeverage.com, the drink's website, "Drank is formulated to relax the body, mind, and soul. 'Drank' is the perfect lifestyle beverage for those who can appreciate extreme relaxation."
For those who want to learn how to mix drinks, the Harvard Bartending Course was in attendance handing out fliers for discounts to their $225 course.
For those who love to eat and watch theater, Medieval Manor Theater-Restaurant gave away samples of pizza. Calder Akin, a manager manning the booth, said, "We've been around since 1972 and every year we have new generations of college students. There's nothing else like it in Boston." Akin also said that on Thursdays anyone who calls the restaurant and mentions their student status will be given a discount.
Lines circled booths, lines blocked aisles, and formed for Wing-It's booth, which handed out chicken wings for those who made it all the way to the front of the line. Wing-It, located on Commonwealth Ave. in Allston, also handed out menus and coupons to students in the event of late night munchies.
Venues like Café 939 on Boylston St. and the House of Blues gave away tickets to upcoming shows as well as posters from past shows. Tickets to see bands such as Portugal, The Man, and Grizzly Bear were being raffled off.
Two stages brought entertainment to the show floor during both days. People stood and watched bands perform, including Mission Hill from Boston. Local bands were also joined by some national acts. Hellogoodbye performed to a large crowd, followed by Talib Kweli who rapped around the stage.
By the end of CollegeFest, exhibitors started to give away everything they had to those students still walking around. Some left with huge posters, while others carried away 24-packs of energy drinks. Guys and girls walked down Boylston to the Hynes MBTA station carrying bags filled with freebies and fliers as they headed back to their colleges. CollegeFest 2010 will be the event's 25th anniversary.