By: Shoshana Akins
If you heard a chorus of rhythmic beats in the Sawyer Building last Thursday, no, it wasn't hoards of frustrated students pounding their heads against the walls trying to relieve their mid-term stress. It was the strong drum rhythms of three powerful young Senegalese sharing their art, tradition, and culture in the lecture demonstration of "Dancing the Drum."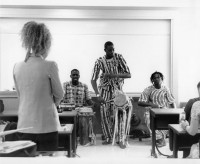 The Faye Family of Senegal, composed of Aziz Faye, Nogaye Ngom, Oumy MBoup, Moustapha Faye, and Malick Ngom, are here at Suffolk University as part of the Distinguished Visiting Scholars program. They have participated in many lectures and events in the past few years along with the recent events that have been going on around campus.
For this lecture, the Faye Family made a presentation about the géwël tradition of Senegal, first by communicating through the direct and compelling example of performing on their drums and then afterwards by explaining all the strong emotions, movements, and messages that had just been imparted on the audience.
"We live this. Everywhere we are, everything we do," intently explained Aziz Faye, one of the Senegalese performers. "This is life."
The géwël tradition is meant to preserve the past and the present, keeping them constantly intertwined and prevalent in current Senegalese Culture. The people who are designated as géwëls are the vessels of this knowledge, making sure the information is widely spread and accurately kept, according to past requirements and current advancements.
"They are anthropologists, genealogists, musicians, dancers, scientists, you name it," emphasized Prof. Robert Bellinger, a teacher at Suffolk and a spearhead for bringing the Senegalese culture to the University. "They are very important to Dakar and to all of Senegal as well."
The dance and music of the géwël tradition, known as sabar, is very intricate and multi-layered. Every hand flick, knee bend, and leg swing is conveying a message through movement. Every tap, beat, and shake of the drums has a meaning as well. This emphasis on non-verbal connection and communication is not only an integral part of sabar's definition but also in Senegal's culture as a whole.
"Each drum has its own name, purpose, and sound," said Aziz Faye while cradling one of the smaller drums like it was a human child. "We connect to these and keep tempo with the type of rhythm and feeling."
But as the Faye's stressed, this tradition is not just reserved for those who are géwëls or even to the country of Senegal. This tradition is to be spread, appreciated, and learned by all who want to.
"Anyone can become a good drummer or a good dancer. That's why we are here, to exchange culture," said Aziz Faye.
This lecture was brought to Suffolk by The CAS Dean's Office, the Black Studies Program, and the Collection of African American Literature in association with the Celebrate the Culture of Senegal series going on between October and November.