The Journey is Suffolk's hands on experience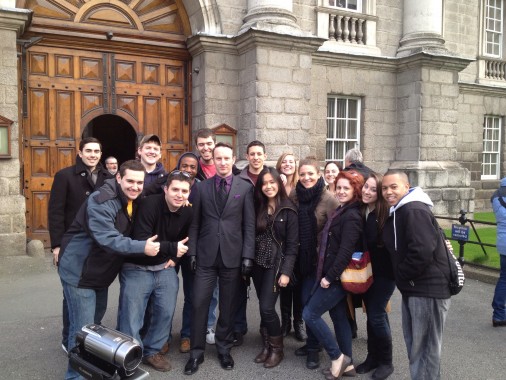 "It's all about learning by doing," Dave DeAngelis, director of Student Leadership and Involvement at Suffolk, said of the Journey leadership program. The four-tier program is designed to compliment skills students are learning in class by rewarding and adding to their leadership experiences.
"[The Journey] is a great way to recognize students who are already involved in leadership and also give less involved students a chance to get involved," said junior and third tier participant, Christina Webster.
The Journey program was developed four years ago to "contribute to holistic education, inside and outside the classroom," DeAngelis said. "We saw leadership happening all around Suffolk," he explained, "whether it's students writing for the newspaper, an RA working at a dorm, or classmates collaborating on group projects."
The program features four levels, discovery, explorer, challenger, and pathfinder, respectively, to facilitate students' learning about "the self and others and ultimately to be engaged in society," said DeAngelis.
The discovery level of the program is an "emerging" stage of the Journey that helps students develop "visions of themselves," DeAngelis explained. It's a time for students to self-guide and "determine what they want, areas they are passionate about and want to be involved with, not [the program] saying you need to do this or you need to attend that."
In the first level, students receive stars for engaging with the Suffolk community through participation in clubs and attending events. Once they reach 10 stars, they advance to the explorer level.
The second level begins to engage students in teamwork and cooperating with others after they have successfully discovered the strengths of their individual self. Discovery features outdoor activities, most recently a trip to Bretton Woods that brought the Journey students together.
"Some of my best friends are Journey members," Webster said. While she believes there is great leadership at Suffolk, she said that Journey motivated her to become more involved on campus. "Journey goes a step beyond everything else," she said.
The third stage of the Journey, Challenger, features the Winter Leadership Week in which students travel to Florida. This stage serves as a continuation of the teamwork skills learned in the explorer tier but pushes student teamwork even further than your typical outdoor excursion.
In Florida, "students have to work together while swimming with manatees," DeAngelis said. "We're all about experiential learning, but we're also about fun," he added. On the trip, students also interact with other student leaders from area institutions, like the University of Southern Florida. "This third tier is about learning about how others interact. Meeting with other groups allows students to see the differences," he said.
Helaina Polito, a junior and third tier Journey member who went on the trip to Florida, believes that the trip truly helps with team building and understanding how to work with others. Swimming with the manatees "gets everyone out of their comfort zone," she said, "it forces you to work together."
Finally, the pathfinder stage of the program is an outlet for students to "implement change" based off their three previous tiers of experience. A leadership exchange allows students to engage with other students from around the country to apply all their leadership skills and continue their experiential learning. "We pair up with another institution to focus on a specific issue. This year we went to the University of South Carolina at Aiken to focus on education issues," said DeAngelis.
The students from South Carolina came to Suffolk earlier this year to talk about education issues, meet with the Massachusetts Teacher's Association, and also participate in fun tourist activities. The same basic plan was employed when Suffolk students just recently visited South Carolina. DeAngelis said that students were able to meet with teacher's associations there and learned about public education.
"Seventy-six percent of the students at a school we visited were sent home with food on Fridays for the weekend because their parents can't afford to feed them," DeAngelis explained as he spoke about the many things students learned on their trip.
The Journey program also took students to Ireland over spring break, allowing them to visit five Irish institutions of higher education and learn about how their education system and student organizations work.
The Journey program has sponsored an array of other events related to the signature experiences of the core four-tiers. DeAngelis listed among them a meeting with CEOs and business leaders related to the Red Sox, a LeadHERship program that matched female students with prominent woman leaders in the community, and an event with a Suffolk alum who started the company Jiffy Lube and now operates an F1 racing track.
"I feel like I've gotten a lot out of the program," Webster said, "it goes along with what you're doing already and motivates you to do more." Polito had similar feelings about the program, adding that it "helps you prepare not only for what you're doing now, but also a taste of your future and learning to give back through service."
The Journey program will hold an awards night on Thursday, April 19 at the Law School Function Room at 7 p.m. to honor its members as they have completed another level of the program and ascend to the next stage in the Fall.
View Comments (2)