Suffolk residence halls ranked 6th most expensive in country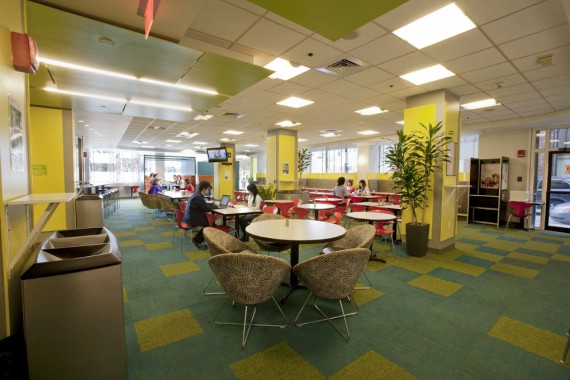 Suffolk's residence halls, located in prime real estate locations in Downtown Boston and Beacon Hill, are the sixth most expensive in the country, according to Campus Grotto.
At an average of $14,624 for housing and meal plan costs per academic year, Suffolk is thousands above the $10,089 average cost for dorms at a private university and well over the $8,889 average housing costs at public universities.
"I want to stress that housing costs have been kept flat for the past two years in a row," said Greg Gatlin, interim vice president of marketing and communications. "President McCarthy has made it a priority to keep costs in line, starting with our lowest tuition cost raise in 36 years," Gatlin said.
Suffolk does not ever require students to live on campus like other schools can, but also does not allow students to stay on campus past their sophomore year. This provides both great opportunities and drawbacks for students, depending on their personal choice and financial situations. While most freshmen spend a lot to live on campus for their first year, many sophomores decide to move away from the expensive dorms to cut costs.
"Financial aid is doing everything they can to keep Suffolk accessible to people of all income levels," Gatlin said when asked how students should deal with expensive housing.
"It's been hard," a freshman resident of 150 Tremont, who preferred not to be named since she is a work-study at the school, said about the high cost of her dorm, "It's been a struggle for me to pay for school this year because of the high housing costs."
"We're aware of the burden costs place on students and their families, and we are doing everything we can to keep them low," Gatlin said. "Housing costs are a function of the real estate market and rising costs in general, like in energy and labor," he added.
Gatlin also commented that our buildings are relatively new, another big contributing factor to high costs.
Todd Phataraprasit, a freshman resident at Miller Hall, said that the steep price of Suffolk dorms may be worth it as they are "a lot nicer than most schools dorms," noting especially that the bathrooms are kept clean and the rooms are adequate. But for the amount he pays, Todd said, "the food could be better with a wider selection of choices." Freshman Miller Hall resident Brian O agreed, "definitely the food options and facilities could be improved."
Notably, Suffolk's Boston neighbors at Emerson College did not make the top 20 list of most expensive dorms. With dorms built in the same area as Suffolk's campus, Emerson has been able to keep their housing costs lower. When asked about this discrepancy, Gatlin said he could not comment on the finances of other universities, but stressed, "the reality is that with this location, costs are going to be high."
"We have state-of-the-art housing facilities and one of the best locations in downtown Boston, with our central location," Gatlin said, "students often comment to us about how they enjoy our incredible location."
View Comments (4)