Article by: Ethan Long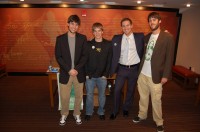 SUNORML hosted a showing of the Canadian documentary The Union: the Business Behind Getting High (Peace Arch Home Entertainment, 2007) Last Wednesday, Sept. 30, in the C. Walsh Theater. A question and answer session featuring documentarian Adam Scorgie and Harvard Professor Dr. Lester Grinspoon followed the showing. In attendance were about 130 students from Suffolk and a few from neighboring colleges as well.
The film features Scorgie as he travels around Canada and the United States trying to figure out just why prohibition on cannabis exists. During his travels, he interviews many people on the subject, including Tommy Chong, one half of the Cheech and Chong comedy duo, who was arrested and sentenced to nine months in jail for selling bongs over the internet.
Some scenes shown really leave the viewer questioning how bogus marijuana laws really are. One such scene shows a "Cannabis Day" rally in British Columbia where citizens are smoking out in the open. Police stand across the street and watch, but they don't seem to give the slightest care about the so called "illegal" drugs.
Another interview with former Seattle Police Chief Norm Stanford surprised even Scorgie. "Probably the most shocking interview I had was with Norm Stanford. Just hearing from an ex-cop who fought the drug war that there was really no harm to society being caused from cannabis, other than the illegal smuggling of it and the gang violence, and now he has a guilty conscience for going to campuses and arresting students. He really took a look at the situation and asked 'How am I helping the country? I'm pulling a student out of college for smoking cannabis when he was in there studying'," said Scorgie. The ex-policeman broke it down to him in a way that he had never thought of before. If a student gets busted for pot smoking, his collegiate career may be over, so he could turn to a life of working for minimum wage, or he could turn to a life of crime to support his family.
Stamper is now a writer for the Huffington Post and a speaker for LEAP (Law Enforcement Against Prohibition), an organization which, according to their mission statement is "made up of current and former members of law enforcement who believe the existing drug policies have failed in their intended goals of addressing the problems of crime, drug abuse, addiction, juvenile drug use, stopping the flow of illegal drugs into this country and the internal sale and use of illegal drugs." LEAP educates the public in hopes of ending a useless prohibition that has caused and may still cause many deaths.
The film seems to leave the viewer with the desire to research more of the surprises that they may have found during the run of the film.
"The government has not been honest with us on many issues such as cannabis. I had my world totally flipped upside-down when I made the film. Before you form an opinion on something you're going to talk to people about, you should dive into the research. Further educate yourself on the subject so that you can give correct answers to people," Scorgie told the Journal.
After viewing the film, Jeff Morris, president of SUNORML, decided to contact a few of the local professors interviewed in the movie. The producers then sent him to the production company, where he obtained Scorgie's e-mail address.
"He contacted me and said, 'Man I am a huge fan,' and it was actually the film itself that got him to be proactive and start the Suffolk chapter of NORML," according to Scorgie.
"I sent Adam an e-mail and a day later he gave me a phone call. This was only the second or third university screening he's done, so he's brand new at this. I think our show kicked off a campaign to do this. Emerson and BU students were there, and I've got e-mails from all those schools saying they want Adam to come," said Morris.
Scorgie's view on college screenings is very positive. "I think colleges are the best place because you're talking to students that are hungry to learn. They don't just take for granted what they learned in the movie, they take the time to study the reports that are labeled in the film and are able to do the research themselves to come to a conclusion. They're the future of this country," he told the Journal.
The Union is available to watch instantly on Netflix.com and is available in stores on DVD.