Suffolk University looking into new athletic facilities
Given its location on Beacon Hill, Suffolk University doesn't have the luxury of building large complexes for its athletics department to utilize. However, there have been talks between the institution and New Balance in a partnership that would give Suffolk a brand new sporting complex and offices for athletics.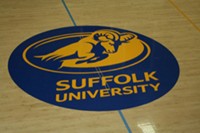 "New Balance is currently building a new complex in Brighton that they want the Boston Bruins to use for practice," said Suffolk Athletic Director James Nelson. "We've been in talks with [them] about Suffolk joining."
At the moment, all but the volleyball and basketball teams have to play their games off-campus, and while Brighton isn't exactly Beacon Hill, almost all the teams would be able to play at one location. While Nelson is appreciative of the facilities like Suffolk's Ridgeway Gym and Boston University's hockey rink that certain teams currently use, both he and  President James McCarthy believe it's time for a change.
"BU and others have been generous to us, allowing us to be their guests," Nelson said. "While I'm very thankful for the Ridgeway building, we've simply outgrown it."
Both  McCarthy and Nelson recently met to discuss the possibility of partnering with New Balance, and finding new athletic facilities in general. Nelson said the talk with McCarthy went well.
"He seemed enthusiastic," said Nelson. "We want to explore the idea of a facility with larger seating capacity and expand other resources. We're looking for larger fitness centers, more storage spaces, shower facilities and offices for coaches. It's the process of finding a space nearby with a price that isn't going to break the bank."
It appears that a partnership with New Balance to use their facility currently under construction is the frontrunner, with many perks to offer Suffolk.
"They approached us looking for something mutually beneficial. The facility will have an indoor soccer and lacrosse fields, a hockey rink and an indoor track for our student athletes to us," said Nelson.
While both soccer teams would certainly utilize the indoor field, the fact New Balance would have a lacrosse field raises the question of whether athletics would look into creating a team for Suffolk.
"Well, it's something we're looking into," Nelson said about possibly brining lacrosse to Suffolk. "We're currently in talks with a political figure in a nearby town about a lacrosse field. We'd need to enhance other resources though, hiring more staff and obviously coaches."
The idea of Suffolk having its own facility to essentially call a is an intriguing one, but Nelson wanted to make it clear that the move is not being made due to poor conditions at the current fields, rinks and gyms that Suffolk uses right now.
"Dillboy Stadium where the soccer teams play, for example, is used by the Boston Breakers and Suffolk is the only college allowed to use the field."
The Ridgeway gym was also redone with new banners and the new university logo painted into the court just last year.
Both McCarthy and Nelson will continue to look into the possibility of partnering with New Balance and their new facility, with the athletic director stating, "Talks with [the company] will continue. Right now they're working on permitting and that sort of thing," said Nelson.