Signing Tebow was PR move for New York Jets
Hang on for a minute...we're trying to find some more stories you might like.
In the world of New York football, the Giants have always been the team to bring home the hardware, while the Jets are the ones who try to bring home the front page.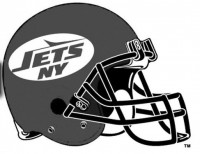 The seats were packed for Tim Tebow's first press conference since being traded to the Jets last Monday, all so reporters could give the nation the updates on how a backup quarterback is feeling in his new surroundings. The Dallas Cowboys signed Kyle Orton a few weeks ago to be their backup QB and I didn't see the news trucks backing up in front of Valley Ranch to get the juicy details on that one.
Tebow has become a household name that extends past the realm of football fans due to his outspoken attitude about his religious views and his good ol' boy attitude towards life. Not to mention the fact he lead the Denver Broncos to more than a few comebacks in 2011.
The Jets know that just as well as any other person walking down the streets of America right now, and they saw profit to be made by brining "TebowMania" to the Big Apple.
Jersey sales are going to be through the roof and the center of all NFL talks the past few days has been about the New York football team that didn't win the Super Bowl last season.
Jets owner Woody Johnson told ESPN that Tebow's off-the-field popularity didn't factor into their decision to acquire him from Denver, but he knows as well as everybody else that Tebow has become a media darling. Pair that with a loud-mouth head coach like Rex Ryan and you've got enough to get you're team the back page of the New York Daily News for a solid month or two.
ESPN analyst Stephen A. Smith doesn't buy what Johnson is selling anymore than I do. He has said on multiple programs for his network that he believes this decision to be nothing but a headline-grabbing move by the Jets. Well, Timmy T and his new ball club better be ready for the media circus they have created, because the press conference was only the first chapter in this story.
Though Tebow stuck with the "aw-shucks routine" as Associated Press writer Paul Newberry called it during the 40 some odd questions he was asked on Monday, the former Bronco did appear to be a bit over his head.
The Jacksonville, FL-raised quarterback rarely derailed from his message about being "excited" to be in New York, using that word more than 40 times according to Huffington Post writer Dennis Wasznak Jr.
While this move should put pressure on starting quarterback Mark Sanchez to live up to first round draft stock in 2009, it also puts pressure on the entire team to perform. The same New York Jets team that wasn't all that united to begin with, as many recent players have stated since the end of the 2011 season.
The Jets putting more pressure on its organization has become a offseason ritual since Coach Ryan came to town. While Tebow may help Johnson's team take the eyes off of the Super Bowl Champion Giants for awhile, this less-than-subtle public relations move is one that could come back to bite them.