NESAD no longer moving to 20 Somerset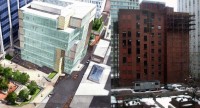 Students attending New England School of Art and Design are generally pleased with many of the programs offered at the art school, but are increasingly unhappy with the facilities and disconnection from the larger Suffolk campus.
NESAD, located at 75 Arlington St., had been set to move into the heart of the main campus, at 20 Somerset St. across from the Sawyer building. Now, the fate of this building has become questionable, as renovations have halted. Recently, President McCarthy broke the news to full-time faculty and program directors at a meeting hosted in the Arlington Street building, according to an email received by the Journal originally sent by Department Chairman Bill Davis.
Expressing his disappointment, Davis' email adds that "President McCarthy indicated that current plans call for us to temporarily extend our stay at 75 Arlington St. beyond December 31, 2013 in order to allow time to find a long-term solution to our facilities issues."
Students, according to recent interviews, continue to express their displeasure of staying put in the current building.
"NESAD is basically composed of three floors in a random business building, we feel very disconnected from the Suffolk University campus," expressed freshman Nielle Alfred. "Things as small as sitting through a three to six hour studio class, and not being able to purchase food with the meal plan in the building is a small disappointment."
NESAD does not allow students to use their RAM accounts while dining at the current Arlington location. Throughout the course of the year, this factor alone can be additional stress for the average art student. Purchasing food every day at hiked prices not having enough time to return to Beacon Hill's main campus to grab lunch in one of the Sodexo provided cafeterias, can be a growing expense for a NESAD student to handle.
The 20 Somerset building may have solved many of these problems. An April 13, 2011 article in the Boston Herald states that the former Metropolitan District Commission building would have been replaced by a 10-story, state-of-the-art facility which would have included "450 seats for art school classes and another 400 for general classroom use."
According to the March 2009 SUN faculty newsletter, the new facility at 20 Somerset was to includes a glass façade, full media technology, energy-efficient lighting and heating, art studios, faculty offices, a public art gallery and critique spaces. The building was designed by architecture firm Chan Krieger Sieniewicz and was expected to cost $68 million.
Former plans for the site were to include a high-rise dormitory which was withdrawn due to "neighborhood opposition," according to the Herald.
With many unaware of the prior plans to relocate the NESAD facilities, students are still content with the courses and faculty support provided by the art school. With strong fine art, graphic and interior design programs, students are also able take classes at the other colleges within the university.
"I'm taking psychology courses at NESAD because I have plans to hopefully pursue a graduate degree in Art Therapy at the School of Visual Arts in New York City," said Alfred. "My next few years with NESAD will be in preparation for that."
Students starting their education at NESAD test the waters based on the school's reputation, despite their current disconnected location.
A meeting, hosted by the recently-started Suffolk University Critical Thinkers, will take place at 3 p.m. on April 13 in NESAD room 259, allowing students to voice their opinions to Davis on the future of the school.
View Comments (5)