Brown leads Warren by nine points, says Suffolk poll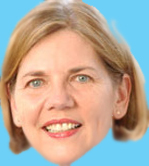 Suffolk University/7NEWS polling still busy keeping track of the Senate race, releasing two new polls, pertaining to the governor's primary and GOP voters support this week.
According to a Suffolk University/7NEWS (WHDH-Boston) poll, Republican Scott Brown currently has a 9-point lead over Democrat Elizabeth Warren, gaining the likely general election voters in Massachusetts. With Republican Brown reining 49 percent of the votes and Warren 40 percent, 9 percent of voters were undecided, and 2 percent intended to choose another candidate.
Scott Brown proved he can outshine Warren, but also displayed notable leads over two other potential candidates of the Democratic Party. Brown surpassed Marisa DeFranco, who totaled 22 percent to Brown's 55 percent, along with Jim King totaling 21 percent in comparison to Brown's 57.
"Scott Brown's popularity and appeal are overpowering the efforts of Elizabeth Warren, who struggles to introduce herself to the larger pool of Massachusetts voters," said Davis Paleologos, director of the Suffolk University Political Research Center, in a University press release. "Warren's support does not have traction among independents."
The Suffolk University/7NEWS poll discovered that Democrat Warren not only led 69 percent to 19 percent among fellow Democrats, but also excelled with 86 percent of voters to 7 percent among republicans and 60 percent to 28 percent among independents.
With nearly 52 percent of all registered voters in the state of Massachusetts registered as independents, any possible candidate can dominate the race. Brown triumphed in the popular aspect of voters, recording a 52 percent favorable rating at a 28 percent unfavorable rating, compared to Elizabeth Warren's 35 percent favorable and 28 percent unfavorable rating, according to the poll.
"Warren has great numbers to build upon within the likely Democratic voter base," said Paleologos in a University press release. "Now, she must broaden her appeal to independent voters in the state who do not know her well, if at all. If she fails to do this, the election could be a repeat of Brown-Coakley."
Voters to the general election claim they prefer having an even balance, with one Democratic and one Republican senator from Massachusetts in Washington. A total of 60 percent claimed they see a benefit to having a member of each party representing them in the Senate, along with the 36 percent saying they do not, according to a press release. 64 percent of independents claim to recognize a benefit to split party representation, while 30 percent of independent voters disagreed. As for registered Democratic voters, 49 percent agreed and 47 percent disagreed.
The statewide survey of 600 Massachusetts registered voters was conducted Feb. 11-15, using telephone interviews of select landline and cell phone users. Marginals and cross-tabulation data for the U.S. Senate race was posted Thursday, Feb. 16, on the Suffolk University Political Research Center website. 
According to Suffolk University/7NEWS polling, 40 percent of voters agree that Elizabeth Warren has the experience to take on the responsibility of U.S. Senator, while 32 percent disagreed. While 43 percent said Scott Brown is a leader in the Senate, 38 percent view the republican as a "follower"
In the midst of likely Democratic voters in the September primary, Warren is expected to crush her fellow Democratic opponents. More than 72 percent of likely Democratic voters said they would lend their vote for Warren, 5 percent for Maris DeFranco, and a sole 1 percent towards Jim King, with a solid 20 percent still undecided.
Leave a Comment