S.O.U.L.S. discusses sex trafficking in Boston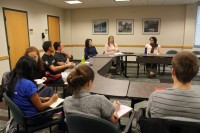 Ally Thibault Journal Staff
S.O.U.L.S. held their monthly Food For Thought discussion Wednesday, which focused on sex and human trafficking in America and abroad.  Featuring guest speakers Rebecca Merrill and Allison Duchcek, of the BostonInitiative to Advance Human Rights (BITAHR), the event aimed to raise awareness and advocacy for victims of human trafficking.
The issue of trafficking has "a greater need for public awareness," Suffolk junior Alex Soto, a Campus Partnerships Scholar at S.O.U.L.S., said as she introduced the guests.
Merrill, an alumnus of Suffolk University Law School and executive director of BITAHR, described sobering statistics and horrifying stories of sex trafficking and explained how her organization tries to help.
"Sex trafficking happens right here in Boston, in the U.S," Merrill said. "It's very tangible, it could be happening to someone you know".  Merrill said the average age of a sex trafficking victim in Massachusetts is only 12 years old, while nationally the average age is somewhere between 11 and 14 years old.
Merrill described shocking stories of a teenage girl kidnapped at an MBTA stop who was then trapped into prostitution and a Northeastern freshman lured in by a seemingly caring older man who forced her to work the streets of Boston's Theater District.
Before BITAHR's work, the laws concerning sex trafficking in Massachusetts placed equal blame on pimps and prostitutes, failing to realize the complexities of the issue and the horrors that young women are subjected to as sex slaves.
BITAHR was instrumental in convincing the Massachusetts legislature to take action and establish an explicit, comprehensive state law to ban sex trafficking since the federal law, the Trafficking Victims Protection Act, has been ineffective.
"It was a long road to change the minds of the legislature and the DA to see young women as victims and not criminals," Merrill said.  The new Massachusetts law lingered in the legislature for six years before it was passed and put into effect in December 2011.
And for what reason was a common sense bill meant to protect little girls held up for—budget problems.
"As soon as you qualify the girls as victims, [the state] needs to give them victim services," Merrill explained.  The legislature hesitated on passing the new law because it meant adding another expenditure to the state budget. Merrill said that the new law remains largely untested and that her organization "still has a lot of training to do on this law".
Duchcek, a development associate at BITAHR and a Suffolk senior, described other ways in which BITAHR aims to help victims of sex trafficking.  The organization provides business training for recovering victims in order to "empower women and rebuild their self-esteem," Duchcek said.
BITAHR also promotes public awareness by "using the arts to get people engaged in the issue" of sex trafficking victims, Duchcek explained.  BITAHR works with musical artists to set up fundraiser concerts to promote the facts on sex trafficking while raising money for their new initiatives and campaigns.
BITAHR also sponsors film forums, like the one at Suffolk's Modern Theatre this past weekend, that showcase the issue of sex and human trafficking and feature panels with experts and survivors of the issue.
The films are not meant to be sob stories that leave the audience depressed, but are instead focused on "empowering people and telling them how to get involved," Merrill said.
Through art, skills training, and legal advocacy, BITAHR hopes to change the language of society when it comes to dealing with the very real, local and global, issue of human and sex trafficking.
Leave a Comment