'Wordly:' quirky art at NESAD
Presented by the Suffolk University Art Gallery at the New England School of Art and Design (NESAD) is "Wordly," a solo exhibition of sculptures, drawings and installations by Arthur Henderson.
Quirky art creates a fun, bright atmosphere from the main and hallway areas of the gallery. Pieces are composed of simple materials like paint, silly putty, plaster, steel, wood, cement, clay, and plastic, as well as other things like urethane foam, polystyrene and resin.
The exhibition demonstrates craftsmanship and style similar to that of Henderson's "Construction" exhibit which was curated by James Hull and featured in the gallery in 2009.
Among the works are simple everyday objects like a wheel, an axe and a plunger, accompanies by works of different sizes, unique painted details and images, and popping colors.


"Ginsberg," made of plaster, urethane foam, steel, wood, and paint, stands out upon entry into the gallery. Raised atop an upside-down fragile-marked box is a man's head splashed with timid tones and round frames.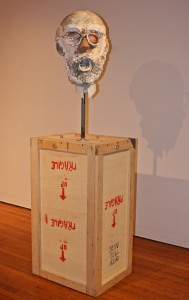 Reaching from the floor to the ceiling, "Martin's Wheel" is a long, narrow stretch of polystyrene, resin and paint.
"Nose" is a painted plastic piece sticking out of the wall in its own secluded space.
"Floyd & Zeno" sits [what appears to be] a pig's head and a wood object, side-by-side. The display is crafted of resin, clay, wood, plaster, and paint.
A sheet of lined paper is illustrated with a cartoon-like figure and bubble letters, called "The Plasterman." Rubber, paper, wood, and latex compose this bright piece.
Eight additional pieces of art include sculptures and large wall image displays.
"Wordly" is free and open to the public until February 17.
Leave a Comment