Good riddance Jonathan Papelbon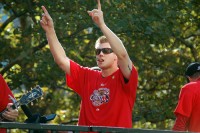 Alex Mellion
Journal Staff
One of the mainstays in the Boston Red Sox bullpen is gone, as Jonathan Papelbon agreed to a four-year, $50 million contract with the Philadelphia Phillies, and I for one cannot be happier. While Papelbon was an integral part of the Red Sox World Series Championship in 2007, he had overstayed his welcome in Boston, and the time was right for him to go elsewhere.
Papelbon had gone from an elite, dependable closer, to someone whom most Red Sox fans could not trust to hold a lead of any sort in the ninth inning.
During the 2009 American League Division Series against the Los Angeles Angels of Anaheim, Papelbon entered the game in the ninth inning with a 6-4 lead, and proceeded to give up three runs, and ultimately blow the game and the series for the Red Sox.
His struggles continued into the 2010 season, as he blew eight saves, a career high. After his disastrous 2010 season, there were rumblings that Papelbon would be traded, but the team decided to hold onto him and keep him as their closer for the 2011 season.
While it wasn't 100 perecent Papelbon's fault for the epic loss September 28, 2011 against the Baltimore Orioles, a game that led to the Red Sox being eliminated from playoff contention a little more than a month they had a nine game lead in the Wild Card standings, it was mainly his fault.
Papelbon came into the game in the ninth inning, with the Sox up 3-2, and clinging to the hopes of at least a one-game playoff the next day, and ended up walking off the mound as Boston's biggest pariah since Bill Buckner.
Another aspect of Papelbon's game that struck a nerve with baseball fans was the fact that he took his sweet time whenever he entered a game. While it's understandable that pitchers want to dictate the pace of play when they're pitching, Papelbon took that to another level.
He would be overly deliberate in his pitching style, seemingly taking forever in-between each pitch that he threw. It was reported that Papelbon had been fined $10,000 for his slow play, and he deserved to be fined every penny of that amount.
So on behalf of all Red Sox fans, I say, good riddance Jonathan Papelbon. Here's to hoping that you pull a Brad Lidge and squander every lead that Roy Halladay gives you before you come out to pitch.
Leave a Comment