Lady Rams struggling after solid start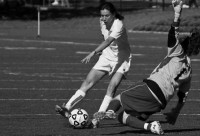 The Suffolk University women's soccer team has had a tough losing streak since starting the Great Northeast Athletic Conference division play, losing five straight games after starting 2-0.
The losing streak couldn't have come at a worse time for the Lady Rams, as four of their five losses have come since opening up conference play against their rivals. Suffolk now sits at second to last in the GNAC with no conference wins to their name despite scoring at least one goal in three of their four losses.
Despite the best efforts of Leslie Hayden, Taylor Miranda, Monica Wolf and company, Suffolk has been unable to continue their 2010 season success into the new year. Two of the four losses were due to lack of defensive play, with the club allowing a combined 10 goals against Lasell and St. Joseph's College of Maine.
The other two losses have come in close encounters with Johnson and Wales University and Emmanuel College, both of which were road games. Suffolk has only been shut out on one occasion during this skid, leading one to believe the offense has at least been clicking to some degree, but it's obvious they can't afford to get into shootouts.
Perhaps the recent skid has come due to being away from home for so long, as three of the four losses have come while away from their home field. Regardless of the case, this team needs to turn things around sooner rather than later.
The Lady Rams have an opportunity to stop the bleeding tonight on the road against St. Joseph College Connecticut. The Blue Jays finished third in the GNAC conference last season, so this will be no proverbial walk in the park for the visiting squad, but when you have an offense as explosive as theirs, there is reason to be optimistic.
St. Joseph currently sits in fourth place in the conference with a 6-2 record and on a three game winning streak. Suffolk's opponents tonight are trending in the exact opposite direction of themselves as of late, meaning it'd be an upset to see the Massachusetts based team walk out the victor in West Hartford, Conn. when all is done.
Along with this game against the Blue Jays, the Lady Rams will take on third ranked Albertus Magnus next week as well as two bouts against Mt. Ida and Pine Manor College. Suffolk will look to head into the Magnus game on a two game winning streak, but they'll have to go through St. Joseph's and Ida to do so.