Michael Christina
Journal Staff
In a tumultuous offseason for the NFL, the Patriots came out of the lockout with big moves in mind. The first major acquisition for the team came with a trade for Albert Haynesworth, the much maligned defensive lineman from the Washington Redskins. To follow that up, the Patriots traded for flamboyant and often loony wide receiver Chad Ochocinco from the Cincinnati Bengals. Finishing up a busy offseason the team signed veteran defensive end Andre Carter and outbid their main AFC East rival in the Jets for the services of Shaun Ellis. With all of these moves, it is easy to see why a lot of the coverage on the team was based on how the new pieces would fit in. But on Monday night we were all reminded of who really makes this team go.
Tom Brady turned in the fifth greatest passing performance of all time against the Miami Dolphins and broke the Patriots franchise passing record going 32 for 48 with 517 yards and four touchdowns. It was Maddenesque to say the least. And it truly was just one more reminder that we are currently watching greatness. For a quarterback that has accomplished everything that can possibly be imagined, both on and off the field, Brady added onto his legacy by becoming only the 11th quarterback in NFL history to throw for at least 500 yards. As Steve Young put it so eloquently during the postgame coverage, "It was like stealing candy from a baby."
Brady's otherworldly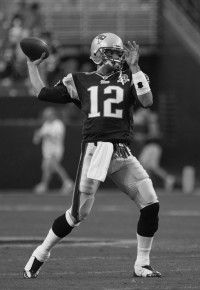 night can be attributed to an overall outstanding performance from the entire offense as a whole. Rookie offensive tackle Nate Solder shined shutting down Miami's Cameron Wake, one of the premier pass rushers in the NFL, as part of a stellar effort from the offensive line. The line held up throughout the night despite starting new additions including Solder and veteran Brian Waters and suffering the loss of center Dan Koppen to a broken ankle. Second year tight ends Rob Gronkowski and Aaron Hernandez continued to be versatile and productive pieces within the offense, both catching touchdowns. Deion Branch showed off his solid connection with Tom Brady by catching 7 balls for 93 yards. And Wes Welker looks to be back to his old self catching 8 balls for 160 yards, capping off the night with a 99 yard touchdown reception which was thrown on a line from Brady.
It would be easy to panic about the defense as they gave up close to 500 yards to an overall underwhelming Miami offense. But as with any Bill Belichick team, the defense is always a process in the making. (The same Patriots team that lost to Buffalo 31-0 in 2003 in the first game of the season is the same team that beat Buffalo 31-0 in the last game of the season) This is not to say that there are no concerns on that side of the ball. But the way this defense will be playing in November and December will be vastly different than what we saw on Monday night.
So going back to Tom Brady, it is easy to not appreciate what Patriots fans enjoy on a weekly basis from one of the premier passers in the history of the game since Pats Nation has been spoiled for almost a decade. What Monday night served as was just another reminder that we are witnessing one of the greatest athletes the city of Boston has ever seen. Brady is officially in the elite class. And when you talk Boston elite you must specify for there are the folk heroes like Tedy Bruschi, John Havlicek, Johnny Pesky and Phil Esposito.  But then there is the class that defines Boston sports. Names like Ted Williams, Bobby Orr, Larry Bird and Bill Russell always come to mind. And Brady now is officially in that class. As for his record setting performance Brady commented after the game that there were still areas that needed to be improved upon. Scary.