Women's soccer team off to great start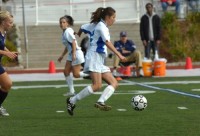 Alex Hall
Journal Staff
2010 marked one of the most successful regular seasons in the history of Suffolk University women's soccer team and it seems this squad is shooting even higher this year.
Last season, the Lady Rams posted a 10-2 Great Northeast Athletic Conference record which would garner a first place seed in the playoffs. Unfortunately Suffolk would not take home the conference crown after such an impressive year, but this squad looks determined to do so in 2011.
The girls opened the season against out-of-conference foe Eastern Nazarene, in which Leslie Hayden and Meghan McHale scored their first goals of the new season in route to a 2-1 victory.
The second game of this opening three game home stand brought the Daniel Webster Eagles to the Lady Rams home turf.
This bout would not  prove to be as close as the first game of the season, as Suffolk would score 13 goals against while shutting out their New Hampshire opponents. 2010 second-team all-GNAC forward Hayden would record her seventh hat trick in a Rams uniform, totaling five on the night.
Not to be outdone, Freshman Lauren Spencer would post three more goals on the scoreboard for her new team, with McHale and Monica Wolf adding a pair each for the home team.
Suffolk would then host the Lyons of Wheaton College at home, in what would turn out to be their first loss of the 2011 season. Despite six shots between Hayden and McHale alone, the Lady Rams were only able to record 9 shots total against Lyons' goalkeeper Lindsay Leddy with none resulting in goals.
Wheaton would sneak two goals past Suffolk goalkeeper Melissa Brouillette who would total 13 saves on a staggering 15 shots on goal through her 90 minutes in net.
Regardless of the loss against the Lyons, the blue and gold can rest easy that it was an out-of-conference game. Suffolk will now turn their attention to Saint Joseph's who they will play today at 4 p.m. in Maine.
It will be the Lady Rams' first game against the Monks since the 2009 season, where Suffolk would tie their conference foes twice as well as record two victories in four meetings.
Though it's been awhile since these two teams have faced one another, the traveling team should feel confident about their abilities with a 13-0 victory under their belt along with the fact Saint Joseph's were unable to defeat them in four meetings back in '09.
Look for the away team to get their offensive playmakers off to a quick start and obtain an early lead against their conference foes today. If Hayden, McHale and Wolf can post performances similar to the Daniel Webster game, the Lady Rams should walk out of Maine with a well earned victory.