Sophomore duo help lead Rams to playoffs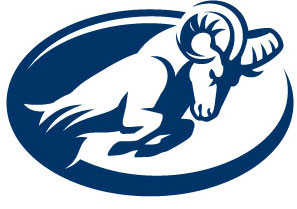 The men's basketball team needed to win one of their last two regular season games to make it to the playoffs. In particularly strong fashion, the team got that much needed win last Thursday on their home court against Lasell College, in large part due to the combined 46 points from sophomores Colin Halpin and Matt Pepdjonovic.
From just two conference wins a season ago, the Rams have earned themselves a GNAC playoff spot.It's clear when watching this year's team that they have made some major improvements from last year.
"There's definitely a new attitude on this year's team," said Halpin, who has dominated conference play all season. "We bring a positive, winning energy to every practice and every game. I think this year we believe."
This culture change coincides with the development of both players, who have both improved their games significantly from last season. In addition, Halpin and Pepdjonovic have played together since their days at Boston College High School. The two second-year players have been nothing short of phenomenal this season, posting 17 points per game each in the regular season, with Pepdjonovic adding a Kevin Garnett-like 13 rebounds per game.
The Rams struggled after winter break, only winning one game in January. With that said, Suffolk was able to make the necessary adjustments in order to get into the playoffs, winning three of their February games to qualify for postseason play. In doing so, they beat Norwich, Lasell and archrival Emerson for the first time in several seasons.
"It felt great to beat Emerson like that; we all remember what they did to us at Regan Gymnasium last season," said Halpin. "I was especially happy for the seniors to get that win. It was the first time in their career that we beat Emerson, and I know it meant a lot to [Mike Fleming, Allan Ray and Dan Williams]."
Halpin and Pepdjonovic both mentioned that Emerson usually gives them both trouble offensively, in large part due to their physical and scrappy style of play. It changed this time, thanks to Pepdjonovic's 15 rebounds and Halpin's 18 points. The team also received strong play from teammates Mike Gibbons and Allen Ray, allowing Suffolk to take down their biggest conference rival on their home court in one of the last games of the regular season.
When asked about Pepjonovic and his impact these past two seasons, Halpin sounded excited. "[He's] relentless," said Halpin. "He brings the best work-ethic to practice every day. He wants to be the best, whether it is at rebounding, shooting, lifting or sprints. He sets the tone for how everyone else needs to work."
In turn, Pepdjonovic described Halpin as very crafty with the ball. "[He] is so skilled offensively," said Pepdjonovic. "He can hurt you in so many ways and is a tough matchup for teams in our league. He has the ability to take his defender out to the perimeter and bury a three, but then he can play with his back to the basket on the block and make a great post move."
Even with such impressive play from both players in just their second season of college basketball, their Head Coach believes that both can still get better.
"They're both great scorers, [Pepdjonovic] has 700 career points and he's still got two more seasons ahead of him," said Coach Nelson. "[Also], they both can get better."
Whether or not this duo gets better in the seasons to come is unknown, but the two Massachusetts natives have provided a much needed spark for Suffolk this season.  Ultimately, they hope to keep the spark lit when they head to Rhode Island Tuesday to take on Johnson and Wales in the GNAC tournament quarterfinals.