Suffolk University junior Shannon Stanton, a new intern with a passion for politics and journalistic excellence, joined the "Meet the Press" team, the longest-running TV show in American history.
Stanton, a Braintree native, studies broadcast journalism with a minor in political science at Suffolk. Her new internship through the NBCUniversal Internship Program has kept her quite busy. 
"I work Thursday, Saturday and Sunday. Sunday is the day of the show, so we have to be there nice and early at 5 a.m.," she said. "Free time doesn't exist very much." 
Stanton's work with "Suffolk in the City" and her involvement in Suffolk's student training employment program were key factors that drew "Meet the Press" to her talents.
After applying to multiple internships, Stanton almost gave up after not receiving an email. Unknowingly, NBC had been trying to reach her all along. 
"The recruiter texted me," Stanton said. "She said, 'Hey Shannon, some teams have been trying to reach out to you. Did you check your spam?' I was filled with panic at that point."
While waiting to board a plane from California back to Boston, Stanton was asked to do a last-minute interview. 
"I had to do my interview with no preparation in the airport and within an hour of my flight boarding," she said. "I thought I blew it." 
While Stanton believed she ruined her chances, the "Meet the Press" team saw an applicant who was able to work in tense situations and excel under pressure. 
"The final stage after the interview is kind of a hefty assignment. You have two days to do a five-page research packet," she said. "Although it was a lot of work, I felt better knowing I could prove my diligence."
Following the numerous challenges, Stanton secured a paid internship where she would have to move to Washington D.C. 
"I'm living on Capitol Hill, which is so pretty and has a strong residential vibe. It reminds me of Beacon Hill, so it doesn't feel too unfamiliar," she said. 
While on "Meet the Press," Stanton has been pushed out of her comfort zone by the various tasks assigned to her, including searching for old video clips and conducting in-depth research for the weekly 50-page research packets prepared for each guest.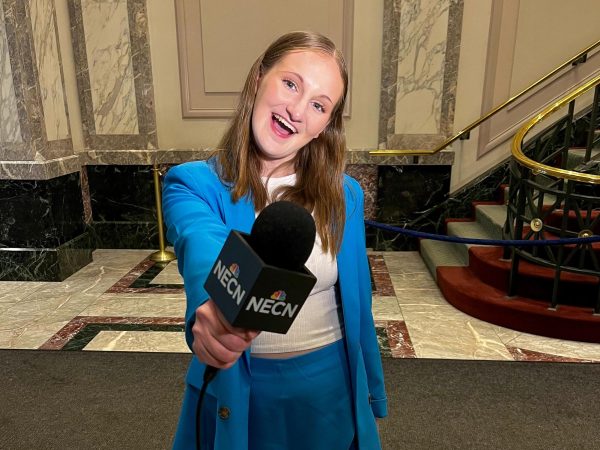 Stanton remains busy managing tasks like drafting transcripts and developing questions for moderators as part of her internship responsibilities. 
"We get to work on everything in the production," she said. "It's been a bit overwhelming, but at the same time I just try to remind myself that I'm an intern and that's why I'm here. Hopefully, by the end of the year, I'll be confident in these skills." 
Bridget Hynes, a senior studying broadcast journalism and hometown friends of Stanton, has no doubt her friend will do exceptional work. 
"In my opinion, her writing skills and ambition will allow her to go very far in such a competitive industry," Hynes said. 
Stanton, who is juggling two classes alongside her internship, said the hectic schedule is worth it to pursue her passion of story-telling through journalism..
"Journalism is my life," Stanton said. "It gives you the chance to spread people's stories that aren't always heard. You can cover a lot of diverse stories and hopefully educate people on things that are new to them to create a more understanding and accepting world." 
Stanton said despite her battle with ongoing health issues, she is determined to pursue her passion. 
 "I have chronic fatigue where I could sleep for 20 hours and still never feel the same as I used to. Every day is a struggle," she said. "But I think the fact that I'm still trying to make a dent in this world makes me proud of myself."
After graduation, Stanton hopes to continue working with production.
"I like political news, so hopefully I can work my way up to producing a show like 'Meet the Press,' but by starting small," she said.
Beyond her career in journalism, Stanton enjoys watching mockumentary sitcoms and utilizing her platform to advocate for human rights. 
Hynes admires Stanton for her consistent work with political justice. 
"She is always actively educating herself and sharing the information on social media and with friends," she said. "She is one of the biggest advocates that I know and she is constantly inspiring me to educate myself."
As Stanton continues on her journey in D.C. until April, she looks forward to furthering her skills and returning to Boston with an exciting experience.