Madison Duff: The all-Ram all-American reflects on Suffolk career
Five years ago, Suffolk University women's hockey captain Madison Duff came to Suffolk to continue playing the sport she loved for a new program. This year, she will graduate as the first defenseman in university history honored as a CCM American Hockey Coaches Association All-American athlete.
Duff said the All-American distinction was an exciting surprise to cap off her senior year, especially after the last game of the year at Middlebury College, a loss in the NCAA tournament.
"At Middlebury they have this wall of all their All-Americans with the plaques hung up in the rink, and while warming up I walked past it. And I was like, man, I'm probably not gonna ever get that," Duff said.
A week later, Duff got a call from coach Taylor Wasylk informing her of the award. 
In addition to the All-American honor, Duff was recognized as a New England All-Star, a Commonwealth Coast Conference First Team selection and was named Suffolk's Student Government Association female athlete of the year. 
The team had incredible success this year, winning their first CCC championship in program history in March over the Endicott College Gulls. Winning during her senior year was an incredible feeling, Duff said.
"It was just like overwhelming joy," Duff said. "It was my last year due to the extra year so it was kind of like my last shot."
Winning against the Gulls was particularly exciting, Duff explained, due to their history against Endicott. Suffolk played Endicott during the 2020 season four times and lost all four in close matches. Duff said beating them in the championship was like revenge.
"We finally made it all the way and we weren't taking their sh** anymore," Duff said. "It's just like a long, long term beef with them so it was good to get the last laugh."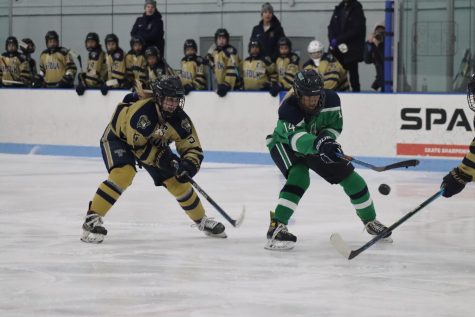 Duff joined the program five years ago during their inaugural season. She and four other athletes from the program's first season will graduate this year. While daunting for others, Duff embraced the new program.
"Some people were a little afraid of [the new program] and that's why they didn't come here. But I thought it was cool," Duff said.
Duff started off strong her first season, playing in 26 games and scoring one goal with an additional 15 assists.
Five years later as CCC champions, Duff reflected on her last year at Suffolk. This year was her most impressive in her Suffolk career recording 21 points, the most by a defenseman and fourth most on the team.
"It's definitely been the best year to finish off with for sure," Duff said. "It's too good to be true."
Duff learned many skills from her time both as a player and captain, from leadership to teamwork.
"I made some mistakes along the way and didn't always make the right decisions. But it just helped me kind of grow to be mature," Duff said. "I had help with Shana [Cote] and Natasha Savage as well, but kind of just taught me how to work well with a team, and then the group, and how to lead the right way."
Outside of hockey, Duff is an accounting major. She is proud of what she has accomplished in the classroom.
"I definitely improved myself in the classroom when I came here compared to high school, so I was happy about that," Duff said. "Just kind of learning to be a little more mature."
While she may be graduating, Duff's time on the ice is far from over. She plans on helping to coach her youth team while working in accounting and has the goal of playing professionally as a graduate student in Sweden.
"I grew up with the sport," Duff said. "I love watching it, even if I'm not playing. So it's definitely going to be a big part of everything I do. I do want to, if I go home, I'm going to continue to coach and be a part of my youth program."
"And I'll definitely be doing the Sunday morning skates with my dad," she added.
Duff hopes playing abroad will work out so she can continue to enjoy the competitive aspect of the sport.
"If I don't go play in Sweden, that'll be something that I'll miss," Duff said. "That feeling on game days is something that I'm never gonna have again if I don't go over there."
Reflecting on her past five years at Suffolk, Duff said she would tell her past self to take more pictures to remember the good times.
"Take more pictures and videos, because you're gonna want to look back on it. And I just didn't really take that many," said Duff. "That would be my advice, and study for your accounting midterms."
Duff advised next year's team to both work hard and have fun.
"Do more conditioning than you want to," Duff said. "When business is done on the ice, have fun with each other and enjoy your teammates."
Leave a Comment
About the Contributor
William Woodring, News Editor | he/him
Will is a senior majoring in public relations. He is originally from Medway, Ma. In his free time, he enjoys listening to music, writing, reading, and running. He is interested in political journalism and hopes to go into politics after graduating.

Follow Will on Twitter @woodringwill