SUFC continues to shine on the pitch
Four years ago, Suffolk University Football Club was a brand new club, but today they're a large group that's still growing.
"The overall goal is to make something as least stressful as possible and to also give everyone an opportunity to play football. It's also a way for people to come together in a way where we're bonding and connecting off of a sport we love to play," said Caroline Costa Gillis, the club's secretary.
SUFC started small, but the club's growth is surprising even to people who have been with the club for years.
"The way we've grown is crazy," said the club's president, David Barsoum. "We actually started with just 15 people. We would walk every day from Park Street to MIT Field. We'd go off Harvard Ave., walk 20 minutes to the MIT field, and the 15 of us would play an 8v8 game."
Growing from 15 people in their first year, SUFC now has so many members that they often need to cap how many people can be on the field at the same time.
"There's a lot of active members. I'd say actively right now we have about 150 people. Those are the amount of people who are in the chat, but usually, when we have pickups we have limits. So I'd say anywhere around 20 to 35 kids usually show up each time we play," said Gillis.
While the club has grown a lot over the last few years, they still manage to be very tight-knit.
"Every year that we do add new members, I'm always getting to know them. At this point every time we play football, there's nobody's name that I don't know. We all know each other's names, we all have fun and we're all there to support each other," said Barsoum.
Since its creation, SUFC has strived to be one of Suffolk's most diverse clubs, with members from various countries joining to hang out with one another.
"We have a lot of people from all around the world, like a lot of countries. I would say, I'm not exaggerating, like 30-plus countries. You see a lot of faces there, it's really nice," said Sultan Alkhedheiri, the club's public relations manager.
Now that SUFC is an established club at Suffolk, they have a goal of bringing more women into the club as they strive to be as diverse as possible.
"For the Boston Ski and Sports Club league, we have a men's team and a co-ed team, and we try to get over four women to play with us. Just to have people be more comfortable, to join and just to know that this is not a sport just for men, it's a sport we can both enjoy together," said Barsoum.
This is a goal they've been working on this past semester, and something they seem to be succeeding at so far.
"This semester especially we've been seeing a lot of women joining and coming to play and participate. We're encouraging them to come because we're all playing for fun and happiness and it'll be nice to see everyone enjoying themselves and playing together," said Alkhedheiri.
Part of why the club has grown so much is their openness to anyone, regardless of their level of experience playing soccer.
"The club's really open. No matter how experienced you are at the game, not experienced, if it's your first time playing, we're open to everyone. We're welcoming everyone to come play and enjoy this beautiful game," said Alkhedheiri.
Throughout its four years as a club at Suffolk, SUFC has given students who may not be involved in Division III sports an opportunity to get out and play a sport that they love.
"I think people should try and join because especially when you get to college, people that don't pursue going to play for a sports team, they miss it," said Gillis. "They want to be able to play for fun, especially when they have so many responsibilities and classes, and I think that's why people don't necessarily join a team. So I think this is a great opportunity for someone to still keep that passion for the sport that they love while still being able to abide by their daily schedule."
SUFC has hosted a variety of events this year, including FIFA Tournaments and soccer games, and they plan to host more events as the school year wraps up.
Students can follow and contact SUFC on Instagram @suffolk_fc for information regarding future events and for information on how to join the club.
Leave a Comment
About the Contributor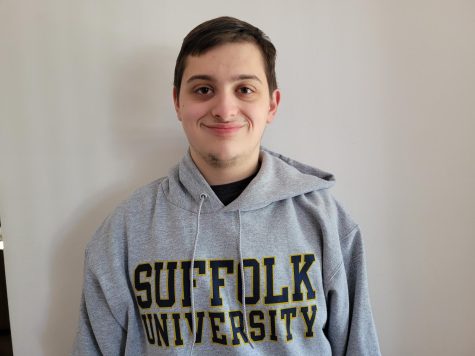 Joseph Dimino, Staff Writer | he/him
Joe is a junior journalism major from Revere, Mass. When he has free time, he can be found in Suffolk's VGA room or watching Boston sports. He's particularly a fan of the Celtics, Patriots, and Red Sox! When he graduates, he hopes to become a sports journalist covering Boston sports.