Annual SGA Awards honor students, staff, campus organizations
Suffolk University's Student Government Association recognized students, staff and campus organizations for their dedication to campus life at its annual SGA Awards  April 6 in Sargent Hall.
The ceremony was held in the Blue Sky Lounge, where drinks, appetizers and a dinner course were provided to attendees. Isabella Tencer, secretary of SGA, organized the event. She said the awards were a night to remember.
"This was the first time I've ever received an opportunity such as this and have been working on planning the ceremony for months. I personally worked with Casey [Mulcare] and the other award committee members to select this year's winners and truly didn't understand the depth of these choices until I saw the smiles and heard the cheers of everyone in that room that night," Tencer said. 
Members of SGA presented 24 awards throughout the evening, including outstanding students in each undergraduate year, outstanding faculty and administrators and student organizations.
CJ Kuechler, president of the Asian American Association and a Diversity Peer Educator, won Outstanding Senior of the Year. She thanked the Center for Diversity and Inclusion and AAA for helping her put herself out there and helping foster an inclusive environment at Suffolk.
"Receiving this award is a recognition of my involvement to the Suffolk community and how important it is to appreciate those who have helped contribute to campus involvement as well as academic devotion," Kuelcher wrote in a statement to the Journal.
Laila Amhad-Zani, one of this year's Orientation Team Leaders, vice president of AAA and president of the Vietnamese Student Association, received the Outstanding Sophomore of the Year award and said the recognition made her reflect on her achievements, as well as discover the impact she has made within the Suffolk community. 
"Many of my friends that are a part of the small, yet significant Asian/Asian American community here at Suffolk congratulated me on my award. I realized my award is not only for myself but the identity I represent. Here at Suffolk, I strive to be a role model for anyone that looks like me, so I hope I was able to inspire others as well that working hard and being involved does pay off," Amhad-Zani said in a statement to the Journal.
Pasion Latina, Suffolk's Latin dance team, won Outstanding Student Organization of the Year. In a statement, Pasion Latina said the award meant a lot as a performing arts team and cultural group on campus.
"We've worked hard this year to share the roots of salsa dancing with elementary school kiddos, teach dance workshops to teens at the Boys and Girls Club of Dorchester, and perform around the Boston area, helping to spread Latin culture and joy all around!" the organization said.
WSFR, Suffolk's student radio, won Most Improved Student Organization of the Year. To Dina Ross, WSFR's general manager, receiving the award felt like a recognition for their hard work.
"We put a lot of work in over the summer to make this year amazing for both returning and new members, and it feels like that work is paying off. We're putting on new events this year that we haven't done in the past and it feels great to be acknowledged," Ross said.
WSFR has expanded beyond radio, WSFR's events coordinator Sammi Todaro said. She attributes the award to the variety of programs the station started this year.
"We have radio, yes, but we also are the hub for podcasts, DJs, talk shows, co
ncerts and other events. This award shows that we've made our mark on others, and that's all that we could ask for. We've grown so much this year – more members, more shows, more music, more events – and we are so proud of how far we've come," Todaro said.
The Black Student Union's African Diaspora Fashion show won Student Organization Sponsored Program of the Year. In a statement to the Journal, BSU said the award celebrates the Black and Brown community at Suffolk and around Boston.
"Receiving this award on behalf of all participants and major actors of the event is an honor we don't take lightly. Thank you to everyone again who planned, supported, attended and even inquired about African Diaspora. It was quite the turnaround!" BSU wrote.
CSDI's Social Justice Summit won Campus Sponsored Program of the Year. Ahria Ilyas, a Diversity Peer Educator and one of the primary organizers of the summit, said in a written statement to the Journal that the award is a reflection of CSDI's mission to educate, represent and liberate marginalized communities at Suffolk.
"The award represents the hard work and determination that the Center of Student Diversity & Inclusion has constantly placed into the Suffolk Community for so many years. This event was intended to welcome back the sense of belonging and leadership that students and community members possess relating to social justice work. We're extremely grateful for the award, and to also have the tradition of this event reinforced within the Suffolk calendar once again, with the work of our department," Ilyas wrote.
Akhila John, a Suffolk senior, won Unsung Hero of the Year – Student. John was recognized for her active involvement on campus, including her roles as Orientation Leader and Ram Supporter, co-president and dance captain of Fusion Dhamaka and public relations manager of Soulfully Versed.
John said she was grateful for the award, as it represented personal growth from her freshman year to now. She couldn't have imagined herself holding so many positions when she first came to Suffolk, she said.
"Not only was I able to learn and grow from these positions and through my experiences at Suffolk, but I was able to meet so many people … I have such good relationships and connections with people and it's crazy," John said.
The ceremony concluded with speeches by current and upcoming members of SGA's executive board.
President Angela El Jazzar thanked SGA for her four years in the organization and reflected on her time as president for the past two years. 
"I can confidently say that together, we have made a positive impact. This campus community and beyond I will forever cherish, and I am incredibly proud to have served and been a part of," El Jazzar said.
Clinton Oreofe, current SGA treasurer and incoming president, congratulated the award winners and expressed his commitment to acting as a voice for students as president.
"I take pride in the progression of novels and how each chapter represents something smaller in a bigger story. So in my chapter one, I could not be more proud to represent each and every one of you as the first Black male president of the Student Government Association," Oreofe said.
Below is a list of this year's SGA Award winners.
Outstanding Senior of the Year: Cassandra Kuechler
Outstanding Junior of the Year: James Taris
Outstanding Sophomore of the Year: Laila Ahmad-Zani
Outstanding Freshman of the Year: Andrew Gomes
Outstanding Transfer Student of the Year: Reegan O'Brien
Outstanding International Student of the Year: Maryam Alsobhi
Outstanding Administrator of the Year: Marissa Pierre
Outstanding Faculty Member of the Year (CAS): Amy Monticello
Outstanding Faculty Member of the Year (SBS): Shari Worthington
Outstanding Student Organization of the Year: Pasion Latina
Outstanding New Student Organization of the Year: Suffolk University Latinx Student Alliance
Most Improved Student Organization of the Year: WSFR
Outstanding Female Athlete of the Year: Madison Duff
Outstanding Male Athlete of the Year: Keenan Robertson
Outstanding Coach of the year: Taylor Wasylk
Unsung Hero – Faculty or Staff: Lyndsey Emmons
Unsung Hero – Student: Akhila John
Campus Sponsored Program of the Year: Social Justice Summit by Center for Student Diversity and Inclusion
Student Organization Sponsored Program of the Year: African Diaspora
Outstanding Graduate Fellow of the Year: Savannah Bell
Outstanding Student of the Year (CAS): Abigail Verfeurth
Outstanding Student of the Year (SBS): Lydia Pizarro
Exemplary Leadership Award: Naia Fils-Aime
Follow Leo on Twitter @leowoods108
Leave a Comment
About the Contributor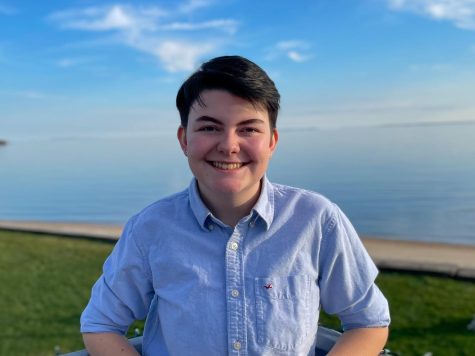 Leo Woods, Photo Editor | he/him
Leo is a senior political science major with a minor in journalism from Clinton, Conn. He has photographed political events, protests, performing arts groups and documented Boston Pride for the People for the History Project. Outside of Suffolk, Leo is an avid Dungeons and Dragons player and podcast listener. After graduation, he plans on attending law school and working in politics.
Follow Leo on Twitter @leowoods108