Confidential documents in politicians' homes: What's at risk?
In August, the FBI raided former President Donald Trump's home in Florida in search of classified documents that he may have had in his possession. Since then, additional classified documents have been found in the homes of former Vice President Mike Pence and current President Joe Biden. 
These discoveries have left Americans with many questions, including the number of documents found and what kind of sensitive information they contain. Some are concerned about the potential national security risks that could develop from these situations. 
Maurice Dyson, a professor of law at Suffolk University, shares these concerns, noting that some of the documents contain state secrets.
"These occurrences of taking office work home appear to be quite common," Dyson said. "But when the term expires, when one relinquishes public office, and a duty to the nation has been served, there still arises a duty to ensure there remains no government documents in one's possession or in their private domain."
Dyson pointed out that professionals like doctors, attorneys and therapists understand their responsibility to keep patient and client information confidential.
"How much more are presidents and vice presidents stewards of the public trust?" Dyson said.
Rachael Cobb, associate professor and chair of Suffolk's political science and legal studies department, brought up another issue: the sheer number of documents the United States chooses to classify.
"There are scholars studying how the U.S. government classifies documents, and the general finding is that we classify too much," said Cobb.
Cobb noted that there's a staggering amount of classified documents, from PowerPoints and spreadsheets to text messages and video conferences. 
"Think about your own email and how many emails you've read and responded to. It's enormous and most of them are totally boring. That's pretty much the case here," Cobb said. "They're deemed classified when it's literally a text saying 'would you like a cup of coffee?'"
Cobb acknowledges that while some of these classified documents don't contain information that poses a national security risk, there are state secrets in some of the other recovered classified documents.
The Associated Press reported Feb. 10 that of the 300 documents recovered from Trump's home, some were classified "at the top secret level." Top secret is the highest level of classification, requiring the highest security clearance for a person to view it.
Both Dyson and Cobb agree that Americans should be equally concerned about how officials like Trump, Biden and Pence are responding to the discovery of the documents and the investigations that follow.
"Perhaps more troubling than the prospects of misuse of sensitive information is the denigration of trust in public leaders who violate that duty or attack those in the FBI and law enforcement who earnestly seek to uphold it," Dyson said. "Intelligence and intelligence apparatus that work on behalf of the nation deserve and need the confidential support of leaders who know responsibly all that mandate entails for the protection of strategic missions and the brave souls who carry them out valiantly around the world."
Cobb said Americans should pay attention to the difference between Biden and Pence, who cooperated with the U.S. Department of Justice and quickly returned the discovered documents, and Trump, who may face charges of obstruction of justice over the battle that ensued to retrieve the documents found in his home.
"At the end of the day, these aren't the private documents of a private citizen, they're the documents that are property of the U.S. government," said Cobb.
Leave a Comment
About the Contributor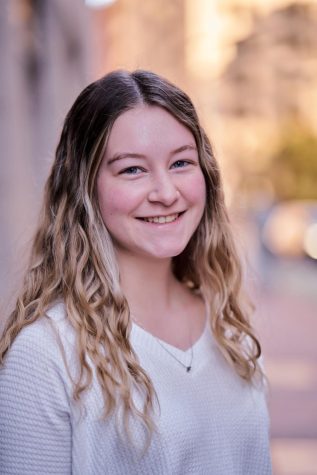 Grace MacDonald, Graduate Copy Editor | she/her
Grace is a graduate student from Seekonk, Massachusetts, majoring in public relations. Besides having a passion for writing, she also enjoys listening to Taylor Swift, watching movies, and exploring the city. She also loves to travel. After graduating, she plans to pursue a graduate degree in integrated marketing communication.
Follow Grace on Twitter
@GraceM123456