QSU drag show embraces LGBTQ, Suffolk communities
Rainbow lights, the splits and raunchy melodies took the spotlight in Suffolk University's annual drag show on Nov. 9, put on by the Queer Student Union and the Performing Arts Office.
QSU President and former Suffolk Journal News Editor Daniel Webber spoke on the upgrade of the venue from last year.
"This year we had to explore venues due to the cafeteria being open later, but I think the Keches room was such a lovely way to revamp an old tradition!" said Webber.
With a line around the corner to start off the night, patrons were welcomed with rainbow lights, music from both Lady Gaga and Brittany Spears and an unbeatable vibrant energy. Attendees were provided with free drinks and snacks along with bowls of Halloween candy at each table.  Webber came to the stage and gave the opening remarks, promoting QSU and other upcoming events.
The show was kicked off by the one and only Crystal Crawford, who came out in a sequined black dress performing her heart out. She instantly connected with the crowd, walking around the room so attendees were close enough to see her perfectly unblended contour while lip syncing "I have Nothing" by Whitney Houston. 
Miss Crawford disclosed that she was a Suffolk alum, attending about 22 years ago, and was the first drag queen to perform here at Suffolk. Keeping up with typical drag show traditions she called up those who were celebrating birthdays and asked a few questions before giving them welcoming hugs.
The beautiful Candace Persuasion followed and wowed the crowd in a nude sparkly bodysuit with harness straps that were later used to secure her copious tips given by generous audience members. While lip syncing to Beyoncè, she seemed to catch everyone's eye — her long hair and glorious body followed behind her as she twirled in between tables — while a lucky few went on stage to dance with her. 
Candace showed extra love to a special Bobby McPhee, a freshman at Suffolk, who even got a follow from Miss Persuasion on Instagram. 
"It was exciting to see first hand three very talented people perform for a very inviting community," McPhee said.  
Last but certainly not least, Lilly Rose Valore, the queen of splits and flips, had patrons wide eyed with her insane energy and moves. A gymnast at heart, she did handstands on every corner of the room, flipping into a perfect split, she definitely made herself known. This was Lilly's second year performing at Suffolk and the crowd loved her. She moved like a tiger, with eyes that looked at you in the soul and the smoothest acrobats. 
Valore, a proud trans woman, spoke on the struggles she endures daily as a result of transphobia. In a tribute to her drag mom, she shouted the lyrics from her heart as the crowd chanted with her, "Accept me for who I am!" 
Love and acceptance was in the air. Being one of Suffolk's longest standing traditions, such a show allowed Suffolk to see how the queer community has evolved to create a place where everyone could be their true self. 
An important portion of the show was dedicated to trans visibility, Candace removing her corset to reveal "Trans is beautiful" written across her bodysuit, advocating for acceptance and the celebration of trans awareness week.
Though a queen was missing due to being sick, Crystal, Candace and Lilly made sure the audience got their fix, each performing around seven songs with outfit changes and an array of genres. The queens were very interactive with the crowd, Crystal even making sure to shake everyone's hand during the closing, making the room feel familiar and comfortable. 
"I could feel the energy in the room this year, it was one of our biggest turnouts ever, over 200 people attended," said Webber of the overall event.
The show had the crowd feeling every emotion. By the end of it, there's no doubt that everyone's mouth hurt from the constant smiles and giggles. The message of the event remains clear: nobody does it better than a queen does.
Leave a Comment
About the Contributor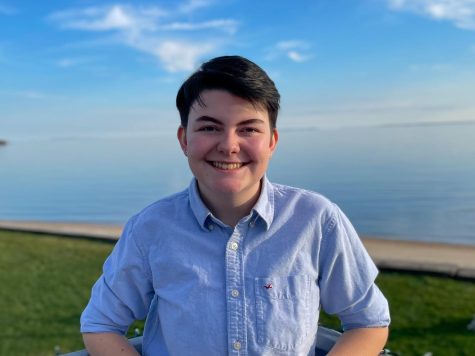 Leo Woods, Photo Editor | he/him
Leo is a junior political science major with a minor in philosophy from Clinton, Conn. When he isn't writing for The Journal, you can find him walking around Boston with his camera taking pictures of the city. He is passionate about politics, Mexican food, and Dungeons and Dragons. In the future, he plans on attending law school and permanently moving to Boston.
Follow Leo on Twitter @leowoods108