Halloween Bash returns to Royale
Suffolk University's Halloween Bash rocked it out of the park with its long anticipated return due to the COVID-19 pandemic. 
Suffolk's Program Council annual event gave students the evening to spend time alongside friends, dance to spooky tunes and don their most creative costumes. 
The event made its post-COVID debut at the Royale. There was plenty of room for students to get their groove on without feeling suffocated, thanks to the size of the venue. In the center was the stage where spooky hits were played by the live DJ. 
"The place looks so good, I'm feeling more into the Halloween spirit since I stepped into the club," said freshman Dana Watson.
At the Bash, there was a chance to take pictures at a photobooth, where students could receive both a physical and digital version of their Halloween portrait as a souvenir.
Students said they were excited about what the Bash had to offer, particularly the opportunity to dance the night away. 
"I [couldn't] wait to bust a move with my friends on the dance floor," said Sophia Wentland, a freshman at Suffolk. 
The crowd pleaser of the night was the many different costumes students wore. There were appearances from movie-related characters and superheroes to DIY costumes that students put time into preparing.
"The pants that I painted and bedazzled [had] 1255 gems I glued individually, which took me three weeks," said Connor Hathaway, who said the look was inspired by Lady Gaga's song "Rain On Me."
Hathaway completed the look with an umbrella with blue yarn that hung down from the sides to give the rain effect to his costume.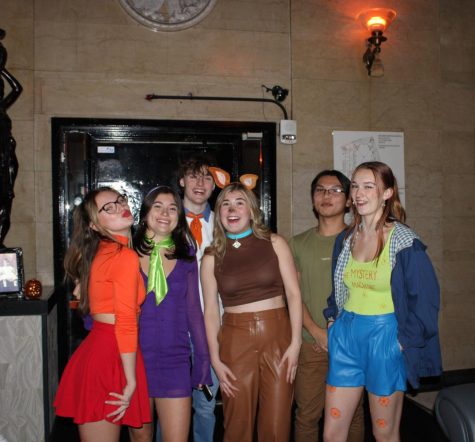 The Bash held its annual costume contest where they picked winners in three different categories: best solo costume, best group and silliest costume of the night. 
The winner of best solo was Emily Pascucci, dressed as Bob Ross. Best group was awarded to Dylan Johnson and friends as Scooby Doo Gang. And the silliest costume was awarded to Alexi Vogiatzakis, dressed as a banana. 
"I am so happy, aside from my feet hurting from the heels. I am really happy to see people show up, ultimately I think it was a very great night," said the Program Council's Traditions Chair Alessandra Rera.
Follow Julia on Twitter @julia.karw
Leave a Comment