Should you be worried, darling? Olivia Wilde's utopian thriller falls short
Olivia Wilde's sophomore directorial film, "Don't Worry Darling," officially hit theaters on Sept. 23, and may leave audiences with more questions than answers. 
The anticipated psychological thriller stars pop singer Harry Styles in his first lead appearance alongside seasoned actress Florence Pugh. Styles' acting chops were put to the test in the chilling feature, where he and Pugh bless the screen with natural chemistry and a fresh 1950s look. 
The film follows Alice, played by Pugh, and Jack, played by Styles, a married couple that live in a utopian 1950s community where the men go off to work every day on a top-secret project, "The Victory Project," and all that is asked of the women is discretion. Over the course of the movie, the audience sees Alice experience skin-crawling hallucinations that allude to the possibility of a false reality. 
Pugh gave an exceptional performance, comparable to that in "Midsommar." Her believable curiosity for the unimaginable truly captures and draws in audiences, encouraging us to also seek answers. It's undeniable that the actress' performance carried the film. In scenes where Pugh was absent, the film lacked personality and remained unmemorable. 
Pugh's co-star, Styles, found himself balancing a tough gig. With a role that was originally written with actor Shia LaBeouf in mind, he had big shoes to fill as an elementary actor. 
Luckily, he was able to convince audiences of his character's deceiving personality, however, he didn't go beyond that. Some of Styles' scenes, particularly ones where he had to yell at his scene counterpart, felt as if they were refilmed numerous times, only for them to give up and settle for the best take. Additionally, if Styles wants to take on more roles where he sports an American accent, it'd be beneficial for him to reach out to an acting and dialect coach. You could pick out his English accent in the American one he was putting on: it wasn't believable. 
When it comes to Styles' acting, he has immense potential for growth in the industry, and his performance was shockingly refreshing coming from a senior musician. However, with a theater full of young people dressed in Styles' album merchandise, one may have to ask themselves if the film's opening weekend would've done this well if not for the singer. 
As far as supporting roles go, Chris Pine, who takes on the role of Frank, the conniving and intellectually terrifying project leader gave an amazing performance, showing his acting abilities beyond his usual action-adventure films. 
Director Olivia Wilde even took on a role herself, Bunny, the light-hearted and likable best friend to Pugh's character. Bunny was an extremely enjoyable character who felt like a comic relief when coming down from intense hallucination scenes. Her honest and eccentric personality felt relatable and charming.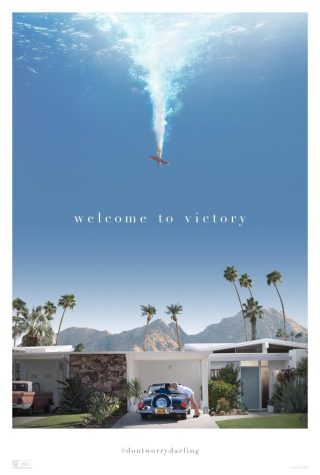 Wilde described her film as being "about female empowerment and pleasure," but the entire movie's plot is founded upon controlling women. Nothing about the film feels empowering nor pleasurable, until the last 10 minutes when you can maybe argue that Pugh's character is forced to be independent due to the men around her not believing her hallucinations. With uncomfortably long sex scenes that felt forceful, one wonders what Wilde's definition of female empowerment truly is.
The plot itself was strong and carried a lot of potential for a thriller. However, towards the end of the film, specifically the last 40 minutes, it started to fall apart. Where you expect the movie to go, it takes a completely different route, leaving you asking those around you what's going on. 
The drama surrounding this film had more twists and turns than the movie itself. Shia LaBeouf was replaced early on in the creative process by Styles, who went on to allegedly date Olivia Wilde during filming. Florence Pugh also refused to post any press about the film until after it was released and avoided the press panel at the Venice Film Festival. There is rumored tension between Pugh and Wilde, leaving fans wondering what could have possibly gone on between the two. 
Despite its downfalls, "Don't Worry Darling" is certainly worth the watch. Even if the film leaves you with some questions and a slightly unsettling feeling about some scenes, it won't leave you feeling like you wasted two hours at the cinema. While the movie wasn't terrible, it wasn't Oscar-worthy either. It was by definition, an astonishingly average movie. 
"Don't Worry Darling" is now showing in theaters.
Follow Brooklyn on Twitter @bleighton12. 
Leave a Comment
About the Contributor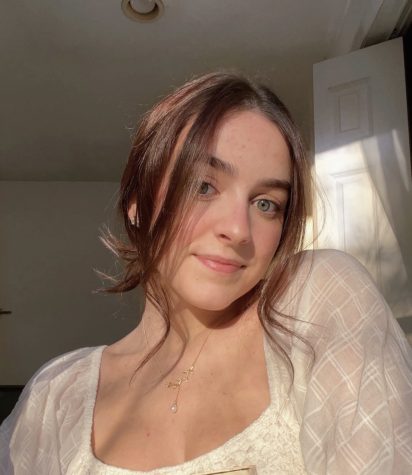 Brooklyn Leighton, Asst. Opinion Editor | she/her
Brooklyn is a sophomore English major with a concentration in creative writing and a minor in journalism from Falmouth, MA. When she isn't working on writing a book, she is listening to Taylor Swift and watching Marvel movies. She loves cats and baking. After graduation, she plans on becoming an author.