Musical March Madness: Best new music releases
As longer days and warmer weather wedge their way into a cold and windy Boston, artists across the globe are dropping tracks and albums that will have you excited to lose your heavy puffer jacket and don a baseball cap to catch the Red Sox game. 
These springtime hits are climbing the charts and making their way onto dozens of playlists, and you can follow along with these best new March releases here. 
"Sweetest Pie" by Megan Thee Stallion and Dua Lipa
In a surprise duet, pop sensation Dua Lipa has teamed up with the queen of hot girl sh*t, Megan Thee Stallion in their newest joint track, "Sweetest Pie."
This upbeat track is getting the music scene ready for summer. The fun and synth-heavy backtrack is smooth and compliments Dua Lipa's alto voice, and the lyrics of the chorus are catchy and easy to sing along to, making it a perfect song to blast in the car or at a dance-heavy party, 
Megan Thee Stallion does what she does best: her rhythm is top-notch in both the first and second verses. The cheeky rap lyrics are full of innuendos, balanced by Lipa's own sing-song lines that give an edge to the song, while still making it an easy crowd pleaser. 
Though the overall metaphor of the song is fairly surface level and lacks a bit in the creative department, Megan Thee Stallion and Dua Lipa are a dominating pair, and likely a force to be reckoned with on the charts; hopefully there's another collaboration in their future. 
"Mainstream Sellout" by Machine Gun Kelly
After the immense success of his first pop-punk album "Tickets to My Downfall," rapper and newfound rockstar Machine Gun Kelly is back with his second rock album, "Mainstream Sellout."

To be frank: this album doesn't hold a candle to his punk-rock debut. It isn't revolutionary, the themes and motifs are mediocre at best and the overall production of the album is simply too clean to be a true punk-rock album. Kelly's vocals have clearly improved since "Tickets to My Downfall," but that is one of only a handful of positives. 
The best song off the new album is easily "maybe," which features British rock band Bring Me The Horizon, and the early 2000s alt-rock influence is clear on this track. Had this influence been seen more strongly throughout the entirety of the album, it may have fared better as a whole. 
The "wall of fame – interlude," featuring comedian Pete Davidson, ends with Davidson saying "Anyway, I hope the next song is a banger. Enjoy Machine Gun Kelly's album…What's the album, what are you gonna call the album?" The interlude then transitions into the next song, which is the title track of the album. It was a funny moment by both Davidson and Kelly, and shows the lighter side to the overall darker album. 
"Head High" by Joey Bada$$
Joey Bada$$ released his single "Head High" on March 3, and it has gained nearly four million listens over the course of the month. 
The rhythm of Bad$$'s rap is very similar to that of J. Cole on "2014 Forest Hills Drive." It suits Bada$$'s voice incredibly well, and the small moments where he utilizes his vocal talent are invaluable on this song. The beat comes from a mix of true drums and synth beats, which is rare to find in such a synth-dominated rap field. 
However, the icing on the cake of this number is the female vocals that are sprinkled into the back track. The contrast they provide is just stark enough to catch the listener's attention, but balanced enough not to take away from Bada$$'s message. They bring a classic vibe to the song, and it presents similarly to the backtrack of Blackstreet and Dr. Dre's "No Diggity."
"Tell Me That It's Over" by Wallows
After nearly three years, Wallows has released their sophomore alt-rock album "Tell Me That It's Over."  
The band has managed to remain true to their sound despite their increase in popularity. During the height of the COVID-19 pandemic, tracks such as "Are You Bored Yet?" and "OK" shot to fame as popular sounds on the social media platform TikTok. 
"Tell Me That It's Over" has a mix of upbeat indie numbers and more mellow alternative influences, providing a balance similar to that of their debut album. The three-man band has clearly improved their songwriting skills, and it seems that, overall, they have had a more hands-on approach to their production, resulting in a cohesive, fun album perfect for springtime. 
"Naked" by FINNEAS
Coming in hot after his first Academy Award win with his sister for their song "No Time to Die," artist Finneas has dropped his newest single titled "Naked." 
"Naked" is Finneas's first release since his debut album dropped last year, and it is giving an entirely different vibe. The song opens, in true Finneas fashion, with a highly overproduced intro, and has the listener wondering if they have entered a spaceship. The production level, though intense, is nothing to shy away from: this is just what Finneas does best. 
In addition to the beautifully crafted backtrack, Finneas plays with his vocals in this song. There is tons of layering of different tones throughout the course of the number, and it's interesting to see this artist break out of his comfort zone in such a new way. If this song is anything like what his sophomore album will sound like, Finneas may have mastered the art of keeping his older fans happy while enticing new ones to take a listen.
Follow Emily on Twitter @emilyhbeatty.
Leave a Comment
About the Writer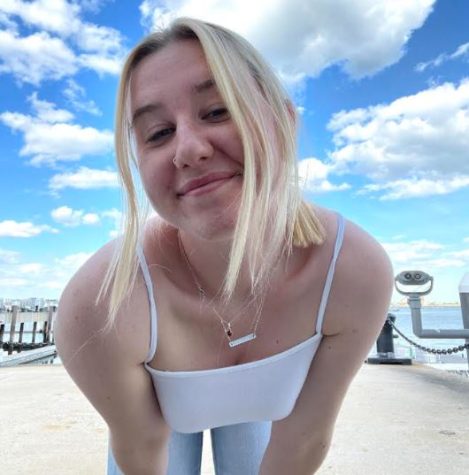 Emily Beatty, Arts & Entertainment Editor | she/they
Emily is a senior English literature and print/web journalism double-major from Canton, Mass. After joining The Journal amidst a pandemic, Emily can be found writing about all things music and pop culture. When not writing, she can be found working, listening to music (probably Taylor Swift) and with a half empty cup of iced coffee in hand. After graduation, Emily hopes to continue to cover music for local publishers in Boston.