'Summer: The Musical' brings hot stuff to Boston
1970s pop sensation Donna Summer was a girl from Boston who started in a gospel choir and rose to become the disco queen. The Emerson Colonial Theatre is giving Bostonians a chance to catch a glimpse into her life and experience her successful hits in a dazzling new musical. 
"Summer: The Donna Summer Musical" is a magical tribute to the Mission Hill-native featuring 23 of her chart-topping songs, glitzy costumes and thrilling dance numbers that will make you want to get out of your seat and groove. 
The audience goes on an entertaining journey of Donna's career and sees three different versions of her: Diva Donna (Brittny Smith), Disco Donna (Charis Gullage) and Duckling Donna (Amahri Edwards-Jones). The older Donna, Diva Donna, narrated scenes of her life, addressing the audience directly. From being called an ugly duckling as a child and singing in her church choir and then growing up to become the musical icon, the audience sees that Donna loved her family, took pride in performing and stood up for what she believed in. 
As seen throughout the show, Donna fought the press, sexism, racism, her own mental health battles, and she experienced sexual abuse and domestic violence. In an emotional and heartbreaking scene, the three Donnas sing "No More Tears (Enough Is Enough)" when Disco Donna is attacked by her boyfriend at home.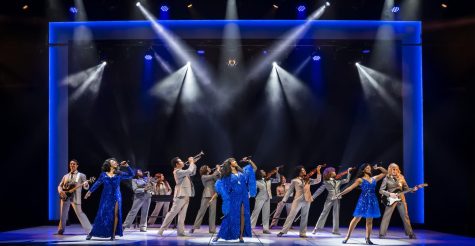 She often battled the music industry, which was highlighted on stage in a legal dispute with her label Casablanca Records because she wanted to try different music styles beyond what was seen in her songs "No More Tears (Enough Is Enough)" and "Dim All the Lights."
Frustrations in the industry grew further for Donna because she wasn't taken seriously as a Black woman, and she was rightfully angry over being paid less than men. Her perseverance was shown in the musical number of "She Works Hard for the Money." 
Audiences will enter this electric world of Donna, learn about her life beyond disco music – such as her time in Germany – and be in awe of the flawless performances by the cast. 
Smith took on the role of an older Donna – also doubling as her mother – with ease and made the audience fall in love with her captivating voice. Gullage shined as Disco Donna and strikingly resembled Donna's '70s appearance with doe-eyes and cascading dark hair. And Edwards-Jones was magnificent as a young Donna, especially in the scenes that took place in the church. 
These three women were undeniable triple-threat performers, keeping up with large-scale dance numbers and Donna's legendary powerhouse vocals, while also using their acting to communicate the emotion and message behind each scene and song. They maintained a perfect balance of impersonation and personalization throughout, complementing each other with their three-part harmonies in songs like "MacArthur Park." 
It was a unique touch to interweave these three generations of Donna together, which made for effective storytelling and moved the story along. The scenes where the Donnas were "mirroring" and interacting with each other on stage were very intimate.
The most memorable musical numbers include Donna belting out to "On the Radio" while driving erratically in Los Angeles, the mesmerizing "Macarthur Park" and the most anticipated "Hot Stuff," which was saved second to last. 
"Hot Stuff" felt slightly out of place amid the previous sad scenes of Donna's health battles, but it was an energetic and vibrant performance that captured everyone's attention with the shimmering disco ball, colorful lights and glamorous costumes. You might want to be transported to Studio 54 after watching this magnificent dance floor number.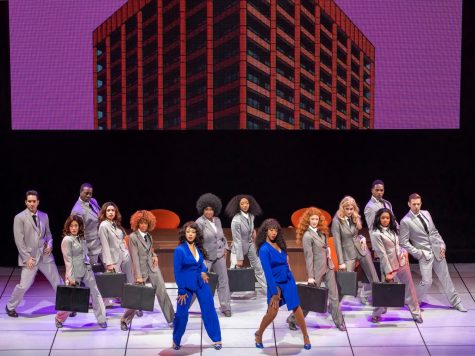 Besides the dynamic hits, the costumes were a high point of the show and it was exciting to see what the characters would wear next. The performers were clad in the original Broadway costumes designed by Paul Tazewell – who is best known for his award-winning designs for television performances like NBC's The Wiz Live, and other Broadway productions including "The Color Purple," "Hamilton" and "In the Heights." 
Donna's childhood of collared outfits and sneakers contrasted against the alluring fashion of the '70s with its bell-bottoms, denim jumpsuits, patchwork skirts, fringe and sequin dresses. It's important to note that blue is Donna's color and was a motif throughout the show, appearing in every one of her outfits. 
At times, the costumes did feel too costume-like and unrealistic, but it can be difficult to make '70s fashion look authentic. Regardless, Tazewell's designs still made the show special. 
Set design was kept to a minimum with the emphasis more on the music and costuming. It would have been nice to see more props, especially for the disco scenes, but transitions were fluid and the audience was never confused as to what was happening. Despite this, the minimalist design allowed for the show's finale to make an even larger impression, with a giant disco ball descending from the ceiling and colorful lights reflected into the audience during the standing ovation and sing-along for "Last Dance." 
It's clear throughout the one hour and 40 minute performance that the musical diva, Donna, transcended the era and made her mark on the industry with her ethereal voice, assertive energy and luxurious looks. She ruled the disco scene and continued to be a powerful force until her death in 2012. 
The show originally opened on Broadway in 2018 starring Tony-award winners LaChanze and Ariana DeBose, with a national tour cast sent out shortly after in 2019. 
"Summer: The Donna Summer Musical," presented by Broadway in Boston, runs until March 6 at the Emerson Colonial Theatre. 
Experience the hits of Donna Summer and buy tickets here.
Follow Sarah and Emily on Twitter @thesarahdipity and @itsemdempsey.
Leave a Comment
About the Contributor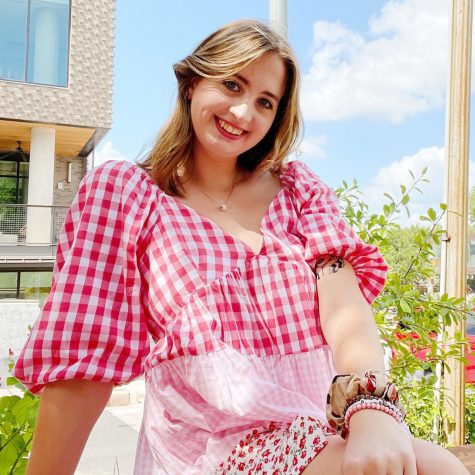 Sarah Lukowski, Arts & Culture Editor | she/her
Sarah Lukowski is a senior journalism and public relations major from Middlebury, Connecticut. Sarah joined The Suffolk Journal in fall 2018 as a Staff Writer and is now the Arts & Culture Editor. When she's not typing away at her computer, you can find her proclaiming her love for Taylor Swift, reading the latest young adult novel, or watching classic horror movies.
Follow Sarah on Twitter
@thesarahdipity
Email her at
[email protected]