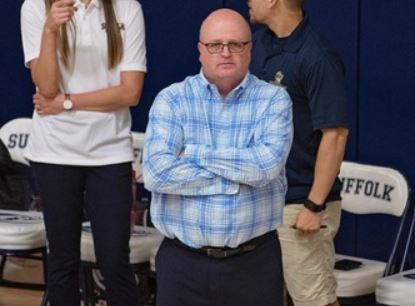 Suffolk University's head volleyball coach Scott Blanchard has been appointed as the interim coach of the men's tennis team for the spring season, according to a statement from Suffolk Athletics. This news comes following the November retirement of longtime men's and women's tennis coach Steve Counihan. 
Blanchard has been at Suffolk since 2018, where he has helped bring the volleyball team into their Commonwealth Coast Conference era. In their most recent season, he led them into postseason play, with two Rams taking All-Conference honors. 
Blanchard has over 20 years of collegiate coaching experience, but this will be his first tennis bout.
"It's kind of funny how everything comes around," said Blanchard to Suffolk Athletics. "I was a tennis player in high school, and after my ankle surgery, it was working with the volleyball team that got my foot back in shape for my senior season of tennis."
Blanchard will have large shoes to fill with the retirement of Coach Counihan. Counihan was the dual coach of men's and women's tennis for over 10 years. Counihan was responsible for four Great Northeast Athletic Conference titles in his tenure, one women's and three men's.
"Coach Couna is a tough customer. A fair coach, and a highly knowledgeable & respectable man," said recent graduate and tennis player Michael Defelice. "He hasn't had it very easy off the court, and still showed up for us every day, when it would've been more than understandable to take some time."
Blanchard will take over in the team's first season competing in the CCC, where they will look to compete with crosstown competitors Wentworth, who went undefeated in fall conference play. 
"I am looking forward to this opportunity," Blanchard said in a Suffolk Athletics statement. "I've met with the players and they seem like a nice group of student-athletes that are ready to get going."  
Follow JD on Twitter @jdconte617