Rams continue hot start with record setting weekend
The Suffolk University Women's Hockey team have continued their storied start to the season by defeating Curry College in a weekend series, lifting their record to 6-0. 
Suffolk first traveled to Canton to take on the Colonels in the first game of a home-and-home series.
In the opening game, the Rams fell behind late in the first period as Curry buried a goal to give them a 1-0 lead.
True to how the Rams season has gone thus far, they battled back.
"We kind of just came together. In the past our teams were young but I think we're a lot more mature now," said forward and assistant captain Maddy Burton. "We just turned our brains off and kind of played the game we all know how to play."
Senior captain Shana Cote tied the game up for the Rams with a power play goal and then added another following a goal from Burton.
"This team, everyone's been so positive it brings out an extra level of competitiveness from everyone," said Cote.
Suffolk added an insurance goal from junior forward Cassidy Gruning as they took the first game by a score of 3-2.
The win in Suffolk and Curry's first ever match up set a program win streak record for the Rams as they have started the season rattling off five straight wins.
The Rams returned home to play the second game the following day and unlike the first game, they jumped out to an early lead. 
Suffolk snagged a 3-0 lead after the first period with goals being added by freshman forward Julia Franklin, junior forward Sofia Scilipoti and Graduate student Maddy Burton.
Along with Franklin, freshman forward Emily Bozzi and sophomore forward Bella Kaczorowski added their first collegiate goals. 
"It's always exciting to see the new players get their first goals," said Burton. "Everyone jumped up on the bench when they scored, it was just a fun experience to be part of."
Suffolk went on to win by a score of 10-3 led behind Burton and her hat trick, the first in program since Burton last achieved the feat in January 2020.
The win also set another program record for most goals scored in a game, adding to the team's already historic weekend and season.
Captain Shana Cote also earned CCC Player of the Week honors for the second time this season after she tallied seven points over the two-game series against Curry.
"It feels good but I couldn't do it without the team," said Cote. "Five of my points were off assists so I really couldn't have done it without my teammates." 
The Rams will host the University of New England in the first game of a home-and-home series Friday in East Boston at Louis E. Porrazzo Memorial Skating Rink.  
Follow Nick on Twitter @NFrieburger
Leave a Comment
About the Contributor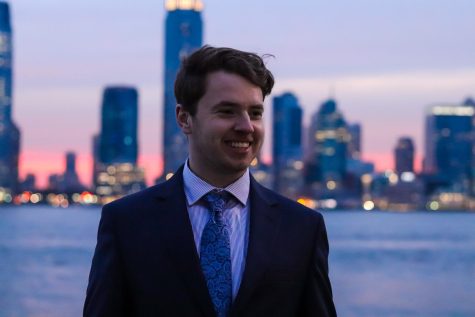 Nick Frieburger, Sports Editor | he/him
Nick is a senior journalism major at Suffolk University and is originally from Kingston, Mass. He is extremely passionate about Boston sports but has a specific love for the Celtics. His biggest claim to fame is watching every Celtics game since 2012. In his free time, he can be found relaxing and watching basketball or football while listening to music.