Shannon Malloy, a freshman volleyball player at Suffolk, is getting ready to take on one of the biggest beauty pageants in the country: Miss Teen USA.
Malloy, an 18-year-old psychology major from Canton, won the Miss Massachusetts Teen USA pageant in June, after signing up on a whim.
The Clemente Organization, who runs the Miss Mass. Teen and Miss Maine Teen USA pageants, reached out to Malloy on Instagram earlier in the year to encourage her to try her hand at pageantry. 
"Ava Clemente, one of the daughters of the founders, found me through Suffolk actually," Malloy said. "[Clemente] went through the volleyball team roster, picked me out and messaged me saying 'you should try it!'" 
Malloy thought it was a scam, and even joked about it with her mom, but ultimately ended up going for it. Modeling had always been a dream of hers, and pageants were a way to get her foot in the door of the industry. 
"My junior prom was canceled, so it just lined up and I had this really expensive dress and nowhere to wear it, and I wore it for Miss Mass. Teen USA," Malloy said. 
The day of the competition, Malloy showed up prepared – or so she thought.
"All these girls have their pageant moms, so many outfits, and I showed up by myself, without my mom, because I'm 18 and I thought 'I can do this by myself,'" Malloy said. "All these girls have their hair in rollers, all these garment bags. I had my dress in a trash bag with a hanger because it was raining. I didn't even own a garment bag…it was so thrown together, because I didn't expect anything to come from it. I was doing it just for fun."
Miss Massachusetts Teen USA was Malloy's first pageant ever, and she won. 
"The judges said to me after I won that I just looked like I was having fun, and it was one of the reasons I stood out to them," Malloy said. "I wasn't hungry to win, but the spontaneity and carefree mindset just carried me through the pageant. Some of these girls were definitely upset that I had just walked in there and won. They train for this for years and all of a sudden I show up." 
Not everyone had an adverse reaction to Malloy's victory. 
"Most of the girls I hung out with all week were so happy for me," she said. "They still reach out to me on Instagram, comment on my pictures and they ask for updates. They're all trying to come to the next pageant, too. "
Since winning, Malloy now fills the role of Miss Teen Massachusetts USA, and handles all the responsibilities that come with it. With the help of the Clemente Organization, Malloy attends public events, retreats, photoshoots and helps with outreach opportunities with her celebrity status.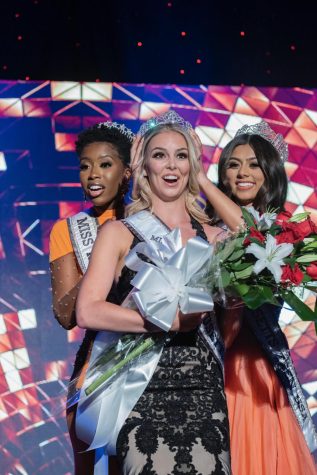 Malloy says this journey hasn't been easy, and she has been working hard to balance her studies and athletics while representing the state in her role. 
"It's overwhelming at the moment," Malloy said. "I'm really more excited for next year when I can focus and tune in on my [volleyball] skills and my teammates.
"We made the playoffs this season, which was a goal of ours," she continued. "I'm happy I could be a part of the team and help us accomplish that. I'm proud."
The Rams unfortunately lost to Roger Williams University in the Commonwealth Coast Conference quarterfinals on Nov. 2. But Malloy now has time to focus on her big competition the week of Thanksgiving. 
The Miss Teen USA and Miss USA pageants will take place from Nov. 26-29 in Tulsa, Oklahoma. All 50 teens and Miss USA contestants compete on Friday with their opening number, evening gown and athletic wear (Miss Teen USA) or swimwear (Miss USA). The top 15 are picked from both competitions, which go on to compete on Saturday and Monday, respectively. 
Malloy's favorite aspect of the pageant is the interview portion. 
"I feel the most prepared for it," she said. "Not in the sense of going over questions and rehearsing answers, but I feel I do best when I just act like it's a conversation."

"You're being judged on how you talk, but I've had a job as a hostess since I was pretty young and I find talking to people pretty easy," Malloy said. "Especially being a psychology major, the whole purpose is communication…I feel like I can be transparent. Especially with this being my first huge pageant, and not really having anything to lose, I think I can really be myself with the judges and I really want to be authentic."
Though the one-on-one time with the judges intimidates most competitions, Malloy is more nervous to walk the stage. 
"You just have so many eyes on you, it's not like being in a room with the five judges talking and connecting with them," she said. "It's hard to connect with so many people in the audience."
Despite her nervousness, Malloy said playing volleyball has helped prepare her for the stage, especially her 2019 high school state championship win as a junior.
"I started that game, and it was crazy to me that I had so many eyes on me and so much pressure on my shoulders," she said. "It was good pressure, but it was Coach [Pat] Cawley's first state championship, and we wanted to win it for her so badly."
Cawley, who has been a volleyball coach at Canton High School since 2001, has since been inducted to the Massachusetts Volleyball Coaches Association Hall of Fame and has over 200 game wins as head coach. 
"When I walk on the national stage, I'm obviously going to get a great experience out of it, but the pressure of representing my state, walking on the stage is overwhelming," Malloy said. "I'm proud to be here, the same way I was for the state championship. It's a very similar feeling and the preparation feels the same."
Malloy never knew her high school volleyball career would help her so much in pageantry. 
"Coach Cawley used to say in practice and during our games 'pretend you're in the state championship, just push to 15 points,'" Malloy said. "And then we got there, to the fifth set of the state championship, and she just looked at us and said 'I have done this drill with you guys for so many years. You can do this.' And we did." 
The months of preparation, though for different outcomes, held the same level of importance for Malloy, and she is thankful to have had it. 
Malloy shared her admiration for Cawley and how she now looks to do the best she can in her pageant competitions.

"I care about all the little things, and remember the little things [Cawley] used to say," she said. "Without having a coach like her, I wouldn't have reflected the same way on myself and really figured out what matters to me and my body and my health."
Family has also been a big support system for Malloy. Her mother and younger sister are some of her biggest fans. 
"My family has been so helpful. It's so much time, money and energy to prepare," she said. "I feel like they deep down love it, but my mom, who's a single mom and works a full-time job and then a part-time job at Target, picks up extra shifts to help provide for me. She has been an amazing supporter for me."
When asked about her chances to win Miss Teen USA, Malloy said she wasn't sure what might happen. 
"It's so difficult to say, because these girls are literally the most beautiful girls from their state," she said. "They're all gorgeous in their own way, they're so talented and they all care about their communities. They were chosen for a reason."
All 50 Miss Teen competitors participated in a weekend-long bonding retreat in Houston, Texas in preparation for the big competition. 
"I got to meet them when I went to Houston, and there wasn't a single girl I didn't like," Malloy said. "It would be a dream come true to win, but if I were to win, I would be grateful to all of them for pushing me. These girls are stunning and stand out, that's why they won their states and why they all have a great equal chance of winning."
After the pageant, Malloy will continue to make public appearances, and will hold a crown and title until she crowns a new Miss Mass. Teen USA in 2022.
"My platform as Miss Teen Mass. USA is all about substance abuse awareness, and I really love outreach to those who are victims of that and homlessess," Malloy said. 
"It's a huge passion of mine. That's what I want to do if I win, and if I don't." 
You can vote to send Malloy to the Miss Teen USA semifinals here. 
Follow Emily on Twitter @emilyhbeatty