Fall Showcase presents three student led performances
The Suffolk University Theatre Department is hosting its annual fall showcase in person for the first time since the pandemic began. 
The showcase will feature three women-led plays that are written and directed by students. Each performance will be around half an hour in length, and feature hand-selected cast members from the theatre department. 
Roz Beauchemin, communications director for Suffolk Theatre, said the showcase is an educational opportunity for students. 
"It's really all about the students and showcases what their talents are, and we give the full support of the department," Beauchemin said.  
The department hosts an open call for students to pitch their own written work. 
Proposals are returned with feedback before choosing which work will be presented in the fall, spring or student spotlight shows.
"The department has a long history of presenting student work, we've produced over 130 student-directed and/or written plays since 1999," Beauchemin said. 
"Red Light, Green Light" was written by Olivia McDonnell but directed by Emma Hudd. This will be the only show this semester directed and written by two separate people. 
"Directing a piece that someone else has written is a very interesting experience in that you don't have access to the mental images the writer had in mind," Hudd said. "My situation is simultaneously a lot of pressure and infinite freedom." 
Suffolk senior Amia S. Rodriguez Josoy both wrote and directed her play "Stella," which will be her capstone project. Initially, her play had been accepted for the 2020 showcase, before COVID-19 shut down production. 
"Stella" was created from personal experiences and fears. The play comes from a shared fear of what can happen to somebody if they reject the advances of a man. 
"I'm really excited to present something so personal to me. The characters' fears are so close to my fears," Josoy said. 
Josoy has participated in other Suffolk productions as an actor, but directing was a change for her. 
"It's a completely different experience to acting, you're on the other side of it, trying to encourage your actors," Josoy said. "I think I'm a writer first, actor second and director third." 
The third play, "The Thin Places," was written and directed by senior Allison Hanna and is another capstone project. 
"It's a homage to 'The Twilight Zone.' I started watching it a lot in the pandemic," Hanna said. "I started writing this story about these siblings who try to seek it out and find the Twilight Zone."
Hanna started her project last semester in her playwriting class and has since acted in other theater productions. 
"Acting, you embody a character that's not yourself and that's kind of what you know going into it. You kind of want someone who is different from you," Hanna said. "But writing is a different kind of story because you pull a lot of different things from your own life. Writing is very, very personal." 
Hanna noted that although she didn't want to write about or work with anything about the pandemic, it came through in her work anyway. 
"The pandemic found its way into the play when I felt very alone. A part of the character arc of the main character is always being by herself," Hanna said. 
The show will run from Nov. 18-21 in the Sullivan Studio Theatre on the 11th floor of Sawyer. 
"This is the first showcase back after being quarantined so I think there's a lot of excitement and anticipation," Beauchemin said. 
The showcase is free, but reservations are required and masks must be worn throughout the entire performance. Outside visitors must be tested or have proof of vaccination to attend. 
Follow Ashley on Twitter @Ashleyfairchi14.
Leave a Comment
About the Writer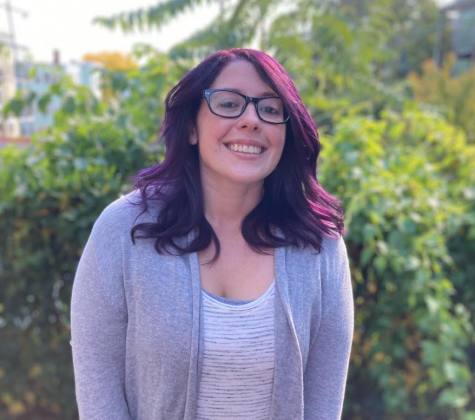 Ashley Fairchild, Asst. Copy Editor | she/her
Ashley
is a senior majoring in print/web Journalism. Outside of Suffolk, she can typically still be found with her nose in a book and her hand wrapped around a coffee mug. She enjoys lifting weights, finding new cafes and most importantly, playing with her dog, Pepper.
Follow Ashley on Twitter @AshleyFairchi14