Newcomers propelling men's hockey into 2021 season
Bardowns, dangles and saucer passes are all back! After a shortened 2020-21 season due to COVID-19, the men's hockey team is looking forward to the full season coming up.
Many of the players were excited to get back on ice. This year, the men's hockey team is looking forward to a full length hockey season. With new players coming in and setting up expectations, the Rams can't wait to start playing hockey again.
Furthermore, the new freshmen students also can't wait to get started. For the freshmen, playing college hockey is a big transition for them since they were used to playing high school hockey. Some of those recruits are transfer students and they have some experience up their sleeves. 
Rams forward and Junior, Nick Lachaine, shared his thoughts of being back on the ice at Charlestown Arena.
"Everyone is super excited to get back on the ice and being at the rink everyday after what we went through last year," said Lachaine. "It's the best time of the year and everyone is ready to get rolling."
The Rams began their 2021-22 campaign with an exhibition game against Babson College on Oct. 16. 
A scoreless first period allowed Ram's head coach Chris Glionna to get a first look at his new talent. 
"I thought the freshmen played well," said Glionna. "I will even add the sophomore class in who only played two games last year due to COVID so it's also all new to them also. Sam Rand and Olle Akermark had nice games on defense. Kyle Valiquette and Ryan Harrigan also played well up front."
Both teams practiced their 5 on 5 along with their power play and penalty kill. They wanted to see who was going to make the cut and who wasn't. Coach Glionna shared his thoughts on how his team performed.
"I thought the team competed well for only having 5 days of practice," said Glionna. "Babson was 8-0 last year during COVID and returned the whole team so it was a good test for us."
Glionna also shared his expectations about the upcoming hockey season.
"I expect the upcoming season to be very challenging," said Glionna. "Our team is still very young and the CCC is a little on the older side this year. However we have good senior leadership and I think we are up for the challenge."
Suffolk was ranked seventh out of eight teams in the Commonwealth Coastal Conference preseason coaches poll. Endicott was awarded the top slot, having won the last CCC tournament during the 2019-2020 season. 
The Rams first contest is Nov. 29 vs Wentworth at Emmons Horrigan O'Neil Rink in Charlestown, as the game against Franklin Pierce was postponed. Coach Glioanna emphasized that a prize will be given for the best Halloween costume. 
Follow Ricardo Orphanos on Twitter: @OrphanosRicardo
Leave a Comment
About the Contributor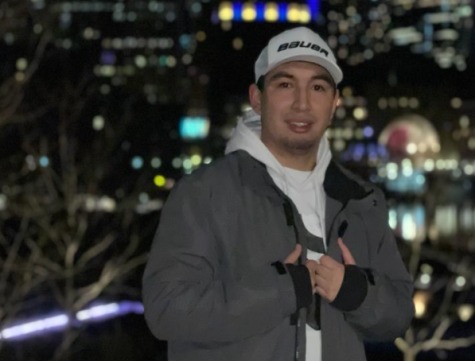 Ricardo Orphanos, Staff Writer | he/him
Rick is a senior journalism print & web major originally from Stoneham, Mass. He is a passionate Bruins fan and loves the sport of hockey. He is always walking around with a black hockey cap. During the winter semester when he's not writing for The Journal, he is the manager and DJ of the Suffolk's Mens hockey team. Outside of hockey, he is also a music producer and releases music on SoundCloud. His dream is to work for the Boston Globe after graduation. 
Follow Rick on Twitter
@
OrphanosRicardo