Volleyball sweeps Emmanuel to help playoff push
The Suffolk University women's volleyball team picked up another late-season victory Monday night when they swept cross-town rival Emmanuel College. 
"It was clear as day that we just had our stuff together and the other team was kind of struggling," said freshman defensive specialist Zoe Bogle. "I think we talked and kept the energy up the whole time and it really helped us get this win."
The Rams started the game hot. After trading points with Emmanuel early in the first set, Suffolk went on a five-point run to take a 9-4 lead. Emmanuel was eventually forced to call a timeout, as Suffolk built a 14-8 lead. 
Emmanuel was able to close the gap to 15-13 after the timeout, but Suffolk responded with a nine-point run. After one more surge from Emmanuel, the Rams closed out the first set by a score of 25-17. 
Suffolk used the momentum from the first set to dominate the second set. By the time Emmanuel called timeout, the Rams led 12-3. 
Unlike the first set, there wasn't much of a rally from Emmanuel following the timeout. Suffolk extended their lead to 17-7, and although Emmanuel tried to respond, Suffolk eventually won the set by a score of 25-15. 
"I liked the chemistry today on the court," said junior setter Harmony Johnson. "There was a good flow between all of us and it was just all around a good vibe."
The third set was the first time that the Rams found themselves playing from behind. Emmanuel had momentum and Suffolk had to call a timeout early, as they eventually found themselves in a 6-2 hole. 
The Rams were able to rally back, eventually gaining a 11-8 lead and forcing Emmanuel to call timeout. Emmanuel kept the score close the rest of the way, but Suffolk was able to hang on to win the third set 25-21, giving them the 3-0 victory. 
"I was happy they controlled the flow of the game and they made adjustments that we had to make," said head coach Scott Blanchard. "I called a timeout early in [set] three and they were not attacking the way we wanted to attack so I had to get on them a little bit about that." 
Freshman outside hitter McKenna Keowen led the team with 14 kills and 15 digs. Junior libero Kenzley Bell was second in digs with 12. 
"I think we do need to work on hitting spots more so and just passing," said Bell, reflecting on how the team can improve going forward.
The win was their second in a row, after defeating Fitchburg State University 3-1 on Saturday. The Rams now hold an overall record of 10-15.
Monday night's matchup concluded the non-conference portion of Suffolk's schedule. 
Suffolk will finish off their regular season schedule this week with two crucial conference matchups. On Oct. 27, the Rams will host Curry College in their final home game. Then on Oct. 30, they'll close out the regular season at Salve Regina University. 
"Wednesday is a big game," said Blanchard. "We gotta get that game, so we got a couple things we gotta clean up in practice, then we're gonna get back after it on Wednesday. We can't think about Salve until we play Curry." 
Follow Jamie on Twitter @JamieTaris
Leave a Comment
About the Writer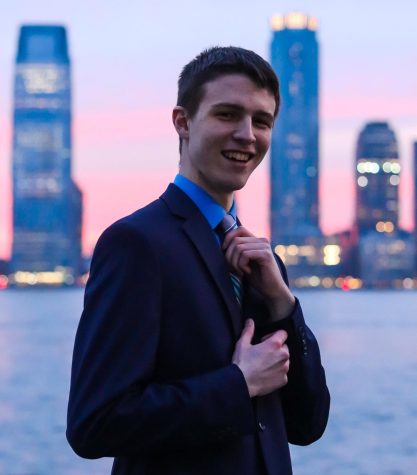 Jamie Taris, Web Editor/Asst. Sports Editor | he/him
Jamie is a junior broadcast journalism major and public relations minor from Pelham, New Hampshire. He has a deep passion for sports, especially hockey and football, and hopes to one day be in the sports media field. When he's not obsessing over the latest sports news, you can usually find Jamie hiking or camping in the White Mountains, or spending time with his friends and family.