International students are back in Boston, most for the first time.
Of the roughly 900 international students at Suffolk University, about 800 have returned or come to Boston for their first time, according to the Director of the Center for International Programs & Services Gregory Jabaut. 
"I am excited more now to be on campus and meet new people and participate in more clubs," said Linda Eang, a senior majoring in global business and management at the Sawyer Business School. "I think it is good for me to act like a freshman, even though I am a senior, just to go out of my way to enjoy campus life as much as possible."
After spending the fall semester of her junior year on campus in 2020, Eang went to Cambodia to spend time with her family. Eang said she felt lonely in Boston because all her friends had left the city. 
"I thought it was a good idea to go back to see my family who I haven't seen in about two years," said Eang. "With the time difference, I could spend my morning and afternoon with them and then around dinner time I would do classes."
International student Mohammed Ammar, a senior studying finance and big data in the Sawyer Business School, had been in Saudi Arabia from spring break of March  2020 until this summer.
"I had two main challenges. Of course the first was the time change. I had to schedule classes from 8 a.m. to 1 p.m. in Boston because I didn't want to ruin my sleep schedule," Ammar said. "The second main challenge was school becoming a second priority when I was home with my family."
Even though Ammar faced a few difficulties studying from home, he said he stuck with it because of the instability and unknown factors of the pandemic. Now he is more excited than ever to be on campus.
"After being online for more than a year, coming back to campus was really weird. I felt like I'm a freshman again when it comes to making friends, sports clubs and classes," he said. "But after a month of being back, I feel like I'm back to myself and getting to know everyone."
Jaubut boasted about the Home Away From Home at Suffolk, a program that pairs domestic students with international students. Students from any year, program and college can join, he said.
"We have more graduate students, about twice as many graduate students, participating in Home Away From Home, the most I've seen since I started at Suffolk in 2019," Jaubut said. "That really speaks to what students are looking for and that's human engagement, person to person engagement and an opportunity to do relatively fun things with each other and to get to know each other."
Jabuat said online events are also available through the center to connect students and help with visa requirements.
"I didn't need any help, but I know they were offering support for students looking for housing in their transition back to Boston," said Ammar. "They were sending emails about instructions for visas and the vaccine."
Ammar and Eang said they have found the school, professors and faculty to be accommodating and respectful of their situations. 
"In a situation where a student really can't arrive, you know, there's no possibility for them to make it, we try to work with the faculty and with the dean's office to either come up with a viable substitution," said Jabaut.
Leave a Comment
About the Contributor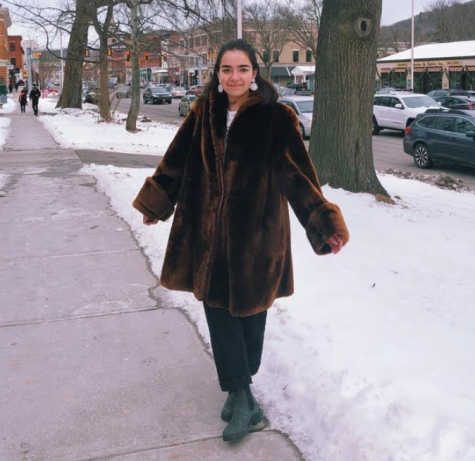 Savanna Nolau, Staff Writer | she/her
Savanna is a junior majoring in international relations and minoring in journalism. She is from The Berkshires, the western most county in Massachusetts, and loves spending time outside, especially during summer and winter months. Recently, her greatest interests include TikTok and all things politics. Savanna would love her future career to be in politics whether that is lobbying, holding public office, or writing for the politics section of a newspaper.