STUDENT AND THE CITY: When did we make it okay to "ghost" each other?
Student and the City is a column dedicated to asking the big questions that all college-aged students are asking. It explores different social concepts within the younger generations regarding relationships, lifestyle, social media and more. 
---
I know a girl who met a boy in the summer before her senior year of college. It might have only lasted about a month or two, but they had something special. The way she talked about it, it was as if Nicholas Sparks wrote them as characters in a movie. She was convinced that no one else would ever treat her better and that he was the one after a string of failed relationships and boys who neglected her. He treated her like gold and couldn't get enough of her and said all the right things. It was the type of thing that you never saw coming but consumed you. 
On a random Tuesday, he didn't answer the phone. After that, he never showed up for the plans they made and didn't call to cancel. She felt sick to her stomach that something happened to him, only for a moment, before she saw him post to his Snapchat story––a picture with the boys, of course. She double texted him a few times and called his number. She saw the word "read" near his name on every platform they shared. "Just like that?" she thought. "Huh."
Has this always been the normal way to end relationships? Did they stop sending handwritten letters when they lost feels in the 1800s? Did they let the landline ring after 10 missed calls from the girl next door they weren't ready to commit to? 
Or, has our generation normalized ignoring people who were once important to us until they go away? When did we stop respecting others––their feelings and their time? How did we find the "easy way out" of the bonds we built? 
The question is: When did we make it okay to "ghost" each other?
This is something our generation universally experiences. I am not proud to admit this but I have been "ghosted," and I have "ghosted" others. In my opinion, it is immature and beyond inconsiderate.
By disappearing from someone's life without explanation, you leave many questions unanswered. Without closure, the person you left will never know why you walked away. They may start to reflect on themselves and participate in a tendency we all know much too well––overthinking. They will be rereading your text messages from the start, dissecting every word. They will replay your last meetings in their head and wonder, "What did I do wrong?" "When did things change?"
According to Jennice Vilhauer, PhD,  a leadership consultant and psychologist and the developer of Future Directed Therapy, ghosting each other has become the norm in today's dating environment. On an episode of Speaking of Psychology, hosted by Kaitlin Luna, she identified the act of being "ghosted" as an incredibly hurtful experience to go through, causing many of her parents to feel replaceable and unworthy. 
"When somebody chooses to ghost you, that's a very deliberate decision that they are making, nobody forgets to call you back when they're dating somebody, it's that they're choosing this behavior, they have made a decision that they want to end the relationship," said Vilhauer on Speaking of Psychology. "The silent treatment is a very cruel thing to do for a specific reason because it has such a very negative impact on the person who's on the receiving end of that."
You somehow escape the conflict of an official "break-up" when you leave someone in the dust. Of course, it is difficult to break things off to someone's face. But, isn't it necessary? Maybe not. Maybe we have mastered a way to date and break up during the "Age of Non-Commitment." Maybe ghosting makes it easier to walk away from toxic relationships. Maybe it has dissolved the need for communication that our generation seems to often struggle with.
That girl I know still thinks about him throughout her day. The question of "what could be?" still lingers in the back of her mind. Why was she still waiting for him to knock on her door? Or to show up in her driveway with flowers and a really good excuse? By doing a complete 180, he has slowed her down from moving on to the person who truly wants to be with her. He never said goodbye, so it is hard for her to grasp the idea that it is over. She needs consistency and reliability, and to feel important to someone the way she once did with him when he was attentive and he was there. 
It is most confusing for her because he was the one who chased her in the beginning and showed initial interest. Why are the people who pursue the other the same people who suddenly walk away in the end? Why is ghosting always the answer?
View Comments (1)
About the Writer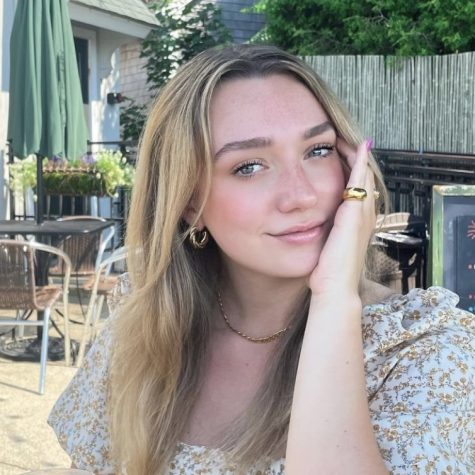 Julia Ahaesy, Opinion Editor, Social Media Manager | she/her
Julia is a senior studying public relations at Suffolk University. Along with her roles of co-opinion editor and co-social media editor at The Suffolk Journal, she writes weekly for her column,
Student and the City
.
On the few occasions she is not writing, you can find her buried in the latest issue of Vogue, wandering the city, or drinking too much coffee. Native to Massachusetts, she will be joining the Massachusetts Air National Guard after graduation. She is currently studying abroad in London, England. Julia hopes to continue traveling as she explores the arts and culture industries in her future.
Follow Julia on Twitter
@juliaahaesy
Email her at
[email protected]