STUDENT AND THE CITY: How do I escape my cycle of self-sabotage?
Student and the City is a column dedicated to asking the big questions that all college-aged students are asking. It will explore different social concepts within the younger generations regarding relationships, lifestyle, social media and more. 
---
Have you ever had your heart broken? If you haven't, you are missing out on one of the most painful experiences in the world. Fun fact: they call it heartbreak because it feels as though your chest has literally been ripped in half and your world has stopped spinning. You actually start to go insane and do things you never would do in a rational state of mind. (Maybe that's why everyone seems to have a "crazy ex.") If you've been there, you've told yourself in those moments that you will never let this happen to you again.
Recently, I got to the point where I had written off dating. Too many red flags line the path behind me and I refused to let another wave one in front of my face while I ignored it. I learned how to be alone and to walk away from blatant mistreatment or instances in which I deserved better. I promised I would never let myself fall for "that kind of guy" again.
Then, of course, I met someone who was genuinely perfect on paper (a walking green flag, if you will). He was everything I was looking for in a relationship and made me embarrassingly giddy and comfortably safe anytime we spent time together. One day he postponed our plans for a few hours to get a homework assignment done, and I reacted very poorly and gave up on him in my head that instant. 
My reaction seems irrational and a little crazy, because it was. The thing is: I told myself that I would never allow someone to cancel on me or neglect my time or feelings ever again because it had been done to me so many times before. I had been sick to my stomach waiting for someone way too many times. I have been pushed to the side and so incredibly hurt by it. So, I went into full defense mode when my walking green flag had a great excuse for wanting to see me later than planned.
Is this going to happen to me for the rest of my life? Am I never going to find a lasting relationship if I pull away every time I see a familiar pattern? Will I ruin every opportunity for myself trying to protect my heart from the pain of my past?
The question is: how do I escape my cycle of self-sabotage?
While my form of self-sabotage comes out of my fear of history repeating itself, there are several different fears that may be ruining your potential future. 
Unreasonable expectations can cause you to end something great before it even starts. Are you looking for the perfect human? They don't exist –– sorry about that. Unfortunately, that person in your head you invented is not going to show up at your door.
"When you create an unrealistic expectation for your partner, you set them up to fail. When they inevitably fail you, it confirms your suspicion and you blame your partner for the relationship failure," said behavioral scientist and relationship writer Clarissa Silva, as reported by Redbook. "The irony is that you sabotaged the relationship by failing to set healthy boundaries and realistic expectations from the beginning."
I agree and believe that each person should have a reasonable set of deal breakers before going into every relationship. There are a few behaviors and characteristics that are important to you, and your wants and needs, that you may simply not be willing to budge on. 
Past those dealbreakers, you need to leave room for people to make mistakes and be themself. If you put too much pressure on people, you will always be disappointed. Take the time to get to know them, and be able to identify an ick from a lovable imperfection. If you make others comfortable to be themselves, you may feel like you can be yourself as well.
That being said, vulnerability can be daunting to many in new situations. This brings us to another form of self-sabotage, in which you may be holding back out of fear of rejection for your flaws. 
I struggled with this for a while. I always wanted to appear put together and perfect, in order to be taken seriously and thought highly of. One time, I did a little experiment to see if anything would change if I finally let my guard down. I met someone who really seemed to like me, who I honestly had no initial interest in. I didn't care much about the outcome –– if the relationship failed or not –– so for the first time, I acted completely like myself from the very beginning. I said what I meant and I let my goofy, sarcastic side out during the "first impression" stage. 
It was a freeing feeling of relief to truly be who I wanted to be, without the fear of scaring them away. That relationship was natural and healthy, and so much fun. I learned that if someone doesn't like you for who you are at the start, they are never going to learn to. Don't you want to be with someone who likes you for you?
Other methods of self-sabotage come in the forms of commitment issues, game-playing, codependency, jealousy… and let's not forget the "I'm not ready for a relationship" way of thinking. We all have something about ourselves we want to work on. Time spent alone gives you the opportunity to learn from your mistakes, and grow into the person you want to be. 
It can be a time of self-reflection. What didn't work in your past? A new relationship is an opportunity to put those new improvements into practice because no two relationships look alike. Did you struggle with miscommunication? This time, actually tell them how you feel. If it scares them away, then they are not the one for you. 
The line between acting out of a place of fear or common sense can be blurred. As a result, we make excuses., create drama and find problems with the little things. Don't decide it won't work before you even try –– why are you working against something you want or that could turn into something incredible?
Self-sabotage doesn't always have to do with relationships –– it can do with a new friendship, a new job, a new career, a new school, a new class. Change is scary, but giving something new the benefit of the doubt may open up doors to a happy future. 
Yes, there are people out there who don't want your love. They are never going to give you what you need and love you the way you need to be loved. But the reality is, there are actually some people out there with good intentions that will treat you right if given the chance. 
Learn to trust yourself. Be confident you will stay strong enough to make tough decisions that are beneficial to you. Know you have the power to get out when you need to. You will recognize red flags. Your gut will let you know when it's time to leave.
There will be problems. Mistakes will be made –– everyone is human. Tell them what is important to you and if they don't change, then make the choice to end it.
Leave a Comment
About the Contributors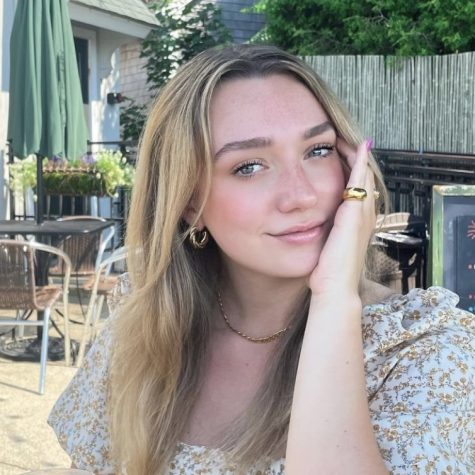 Julia Ahaesy, Opinion Editor, Social Media Manager | she/her
Julia is a senior studying public relations at Suffolk University. Along with her roles of co-opinion editor and co-social media editor at The Suffolk Journal, she writes weekly for her column,
Student and the City
.
On the few occasions she is not writing, you can find her buried in the latest issue of Vogue, wandering the city, or drinking too much coffee. Native to Massachusetts, she will be joining the Massachusetts Air National Guard after graduation. She is currently studying abroad in London, England. Julia hopes to continue traveling as she explores the arts and culture industries in her future.
Follow Julia on Twitter
@juliaahaesy
Email her at
[email protected]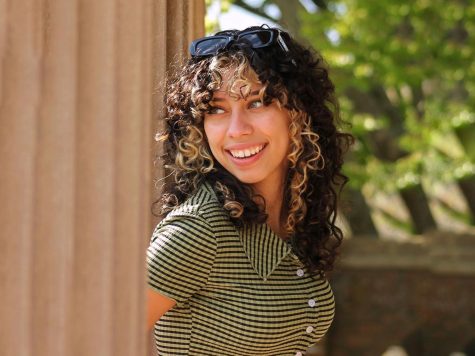 Julia Fusco, Graphics Editor | she/her
Julia is a senior from South Hamilton, Mass. majoring in media & film at Suffolk University. Julia is part of four student organizations and counting and is on the E-Board for three of them. When she isn't working at the Suffolk gym or in class, you can often find her taking time to engage in her hobbies, which includes photoshoots with her friends, graphic designing, dancing and grabbing some boba to go!