STUDENT AND THE CITY: How do you say goodbye?
Student and the City is a column dedicated to asking the big questions that all college-aged students are asking. It will explore different social concepts within the younger generations regarding relationships, lifestyle, social media and more. 
---
I've been in this college chapter for a while now. The storybook of my life has written me as a student ever since I can remember. I went from finishing high school after 18 years to attending Suffolk University, to joining The Suffolk Journal, to finding my passion for writing — with plenty of failed friendships, relationships and embarrassing stories in between. (Remember when I passed out on the floor of the Miller dining hall freshman year? I do). 
Now, it is finally time to cross that stage and walk away with a diploma. 
School has been my security. It has given me constant fresh starts and endless chances. Every school year and every college semester, I've had a new professor, new classmates and a new opportunity to start from the beginning again. Now, I can't just move on from past mistakes. After graduation, I have real consequences and I'm expected to commit to something for the rest of my life? I'm supposed to be an adult now? What happens if I mess up?
My university has introduced me to some of the most inspiring people. I've met students from all over the world during my study abroad experience. I've made friends here in Boston that I never want to leave. Don't get me started on how much I have learned from The Journal's editorial team, past and present. 
The question is: How do you say goodbye?
I am overwhelmingly lost as I enter this new chapter and leave the one I know behind. To be completely honest, I don't know what to do with myself. There are plans in place and I see a path in front of me, but it's blurred and keeps going in a different direction every time I check back. 
I have so many questions and no one seems to have an answer.
Do I just start applying for "real world" jobs now? How do I do my taxes? When do I move out of my parents' place? How do I cook literally anything? Am I going to get my dream job? Is that how this works? 
To stay true to the theme of this column, I need to ask: how am I supposed to date in the real world? Does this mean I have to move on from past hometown football players and college frat boys? Well, I might be happy to drift from the dating pool that has been decided for me throughout the entirety of my life. Enough said there.
I think it's always going to be hard to walk away from a significant time in your story, filled with significant people and significant experiences. The only thing that makes me sicker to my stomach than student debt is the thought of leaving my school newspaper. I have a purpose in college, and I'm not ready to leave it all behind. 
At the same time, it is also hard to walk away from toxic relationships and situations where you just cannot grow anymore. But it's necessary, and when you do, it is rewarding and allows for happiness and fulfillment. 
Ready or not, a change is coming and I am diving headfirst into the life of an adult.
In college, I know what I'm doing. I am comfortable with my routine and confident in my ability to be successful. Now, while I experience this enormous shift in environment, I am back at the bottom of the ladder. 
It's quite easy to fall into a spiral of self-comparison. Over the last few years, I've watched as the people I grew up with get married, buy houses, have kids and get hired for some really great jobs. Now that college is over, I will only see this happening more often…and I am nowhere close to being where they are. Sometimes, the uncertainty of my future makes me want to hide within the walls of my university forever.
Therapist Frances Trussell and author of "You Are Not Your Thoughts: The Secret Magic of Mindfulness," is an expert on post-grad advice. She told Cosmopolitan UK's audience of graduates to put things in perspective, which is easier said than done if you ask me.
"My advice is, be kind to yourself, recognise that most pressure is self created and embrace not knowing what life will bring but be excited for the possibilities," said Frances Trussel. "Now university projects are over, make yourself your new project and focus on developing a growth mindset." 
What I take from her advice is that it is time to set my own goals. I have always been told what I should be working toward and what defines success. Now, it is no longer "get a good grade and pass all your classes" — it's more than that. 
I don't have many things planned out, but I think I have my first "real world" goal set: I want to keep learning. 
I may not be a student anymore, but I never want to stop educating myself and gaining more knowledge. Let me embarrass myself really quick — I like school. I don't know how I became such a nerd. My parents were never on me to do my homework or get good grades. They were actually prying me off the kitchen table at two in the morning in middle school when I insisted on perfecting my homework assignments. 
After college, maybe learning is more about the willingness to have an open mind. It's paying attention to different unexpected lessons around you that come in all different shapes and sizes. Learn from relationships. Learn from mentors. Learn from failures. Learn from experiences, places and travels. 
Learning is being proactive about teaching yourself about matters that are important to you and to humankind. I want to always strive to continue growing, whatever that looks like for me throughout my upcoming chapters. 
I am grateful for the way my time in college guided me toward becoming someone I am proud of. The girl that started at this university in 2018 is not the same girl today. Through some truly horrifying experiences and some extraordinary experiences, I have created the person I am and I am determined to never stop creating. 
I'm not sure how to say goodbye. Instead, I'll say thank you.
Leave a Comment
About the Contributor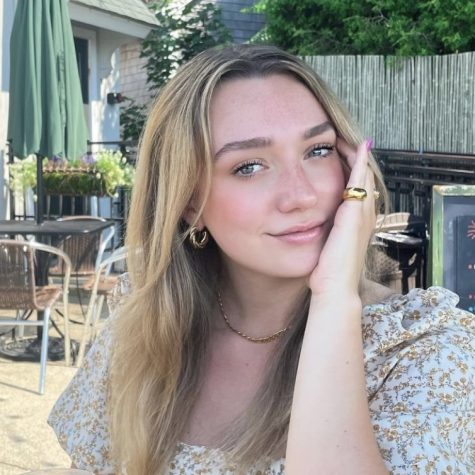 Julia Ahaesy, Opinion Editor, Social Media Manager | she/her
Julia is a senior studying public relations at Suffolk University. Along with her roles of co-opinion editor and co-social media editor at The Suffolk Journal, she writes weekly for her column,
Student and the City
.
On the few occasions she is not writing, you can find her buried in the latest issue of Vogue, wandering the city, or drinking too much coffee. Native to Massachusetts, she will be joining the Massachusetts Air National Guard after graduation. She is currently studying abroad in London, England. Julia hopes to continue traveling as she explores the arts and culture industries in her future.
Follow Julia on Twitter
@juliaahaesy
Email her at
[email protected]