Suffolk's student commuter lounge has reopened this semester after being utilized as a COVID-19 test site last year. 
The lounge, located on the first floor of 73 Tremont, is a space for commuter students looking to relax between classes. With a colorful couch and armchairs set up in a circle, lockers, a kitchen and counter space with plenty of seating, the lounge is a space of their own on campus. 
"The lounge is exclusive only to commuters so we have more things in common," said Cole Hamparin, an accounting senior who commutes from Allston. 
Another commuter, Jerry Gendall, a political science freshman, remarked on how without the lounge he would have to be in the library or wandering around Boston during his long breaks between classes.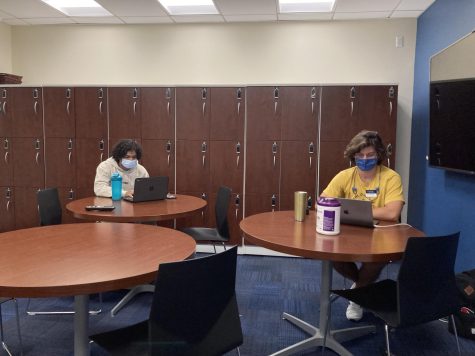 "The community is nice; people just come here to chat. There's always a scene," said Gendall.
The commuter population that utilizes the lounge has begun to meet there without having made plans prior.
"We all know these same people will be here," said Sarah DeOliveria, a junior majoring in law. 
Hannah Costello, a commuter ambassador, reflected on how having the lounge open will benefit the large commuter population. 
"When [this space] was restored to the commuter lounge, we knew just how important it would be to advertise the important impact this space has on our commuters and to share it with commuters who never had the opportunity to use it before," said Costello. 
Costello noted that the lounge, which first opened in April 2019, is the only place on campus geared toward commuter students' needs. Not having dorms to go back to between campus can be difficult and the lounge creates a space for commuters to relax and recharge while connecting with others. 
The commuter lounge isn't the only thing that the Commuter Student Council works on. They have events throughout the year to get commuters together. 
"We are hosting our annual Commuter Appreciation week, Oct. 12-15. We want to show support to our entire commuter population, at Suffolk, to those who keep our community strong on and off campus. This week will be filled with events, prizes, swag, free food and so much more," said Costello.
Costello said she wants commuters to immerse themselves in the Suffolk culture. 
"Get involved during your time at Suffolk and make the most of your experience,"  said Costello. "We appreciate you making the commute every day to be a part of this community." 
Follow Ashley on Twitter @AshleyFairchi14