Men's basketball off to solid start in 2010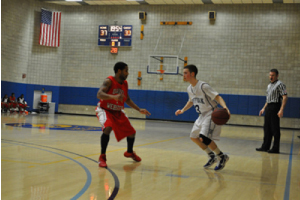 Alex Hall
Journal Staff
The first month of the season for the men's basketball team is over, and this squad has already been able to surpass last season's win total. Coach Nelson has his team off to a 3-3 start, with key wins over non-conference opponent Eastern Nazarene and GNAC rival Lasell. Despite tough losses, this Rams' team is looking much improved from last year.
In all three Rams' victories this season, Sophomore Matt Pepdjonovic has had monster performances. The starting center posted 22 of the team's 76 points, while racking up an impressive 23 rebounds in the season-opening victory against Eastern Nazarene. Pepdjonovic posted another double-double performance against University of Maine Presque-Isle in the opening round of the NEC tournament, and just three days later scored a career-high 28 points in the overtime victory against Lasell. The team's two losses this season have been tough to swallow, sure, but they most certainly will look to build upon them as the year progresses.
The team's two losses have been rather tough. Coach Nelson and his team couldn't recover from a 16-3 onslaught from New England College on Nov. 21, and suffered their first loss of the season.
The MIT game on Nov. 27 was just the opposite, with the Rams holding the lead in the contest through the first 11 minutes of play. It would be all downhill for the home team after this, however, with MIT freshman Josh Dunaway draining three consecutive three-point shots, sparking a 21-6 MIT run. They would go on to lose the game, 86-47.
Though they may only be one game over .500, it's important to note that their losses against MIT and New England College were non-conference games. In order to have a chance at a playoff match they will have to beat the likes of Johnson and Wales or Saint Josesph's. This is something Coach Nelson's team will certainly aim for as the calendar turns to December.
In addition, sophomore standouts Connor Halpin and Matt Pepdjonovic will need to continue their impressive starts to the season, and Coach Nelson will need to have more than a few tricks up his sleeve to pull out some important wins.
With that said, if November taught us anything about this young team, it's that they're out to prove that they're indeed contenders. Both division games will be played at the Regan Gymnasium, which will give Suffolk some much-needed home-court advantage in the two most important games on their December schedule.
Leave a Comment