STUDENT AND THE CITY: Why is it so hard to be our authentic selves? 
Student and the City is a column dedicated to asking the big questions that all college-aged students are asking. It will explore different social concepts within the younger generations regarding relationships, lifestyle, social media and more. 
---
On your trip to college, you watch all of the people you have ever known in your rearview mirror as you head toward a new place, where no one knows who you are. This is your chance to be whoever you want to be. It is a time for self-reflection — a time to reinvent yourself. Yet, why are we always trying to be someone else for the approval of others?
The question is: why is it so hard to be our authentic selves? 
College favors a certain type of person. You will have a hard time thriving in your experience if you are not bold and extroverted while being effortlessly smart. The pressure to make friends and be accepted by those you surround yourself with is heavy. But what if you are not this person?
Vulnerability is especially scary in an unwelcoming environment. It is understandable to be hesitant in opening up to potential judgment. We tend to keep our guards up and revert to the person we think people want us to be. We say what we think others want to hear, or we stay quiet out of fear of rejection when we do not feel comfortable. We do not want to be ugly by exposing our true flaws. 
Instead, we put on a performance. We work endlessly to appear to be the perfect balance between quiet and loud, short and tall, confident and insecure, sporty and feminine. We should not be shy or scared, and should never dare to be too sophisticated or a tryhard. 
Why does it seem the most vibrant and visible people are the ones that put on this performance and try to be like everyone else?
We are expected to fit this mold, and fear we would not even be considered attractive if we don't. On top of the stresses of the college experience, social media is a major reason for our pursuit of perfection. 
This seems to be especially true for women. They are held to a stricter standard. Seem natural and easy. Dress down as to not seem high maintenance but wear a full face of make-up to look naturally beautiful. Post the best Instagram picture, make sure to not be too boring or too sexy. Stay casual with a quirky caption underneath the picture selected from hundreds, and filtered to look like it is not filtered.  
Many aspire to be the "cool girl." We all know her. In Gillian Flynn's novel "Gone Girl," this character is defined as a "hot, brilliant, funny woman who adores football, poker, dirty jokes, and burping, who plays video games, drinks cheap beer…and jams hot dogs and hamburgers into her mouth…while somehow maintaining a size two, because Cool Girls are above all hot." 
This girl is the master of performance. She's "not like other girls." She says things like, "I don't get along with other girls" or "I am one of the boys." They are not difficult or aggressive. They are easy flowing with a great sense of humor. They go along with whatever their partner wants, never nagging or complaining. They don't worry about their weight, they can't be bothered with makeup and girls are much too dramatic for them. 
The reality is, this girl does not exist. She is not real. She is the perfect character out of a movie — a girl created in the straight man's Hollywood imagination. 
Why must we tear each other down? Life is hard enough. Why are we still using gender identity as a personality trait? When will we start seeing people for who they are — human. 
If you are having a difficult time with this, ask yourself, who are you surrounding yourself with? Are you being critical of others or are you allowing them to be themselves? 
This standard we hold ourselves to needs to go. We should be assertive and stand up for ourselves and our values. We should dress how we feel comfortable and confident. We should open up and welcome others to do the same. Authenticity is scary, but it is important. Uniqueness and diversity are what make a community truly beautiful. 
Leave a Comment
About the Contributor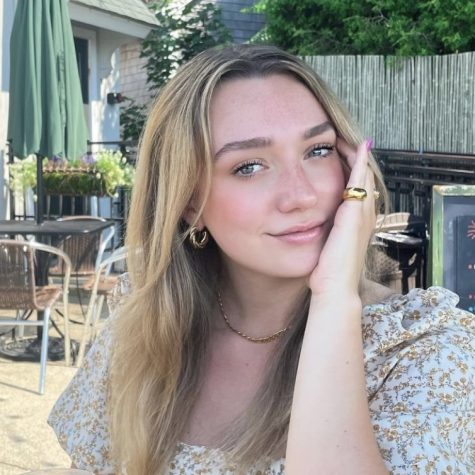 Julia Ahaesy, Opinion Editor, Social Media Manager | she/her
Julia is a senior studying public relations at Suffolk University. Along with her roles of co-opinion editor and co-social media editor at The Suffolk Journal, she writes weekly for her column,
Student and the City
.
On the few occasions she is not writing, you can find her buried in the latest issue of Vogue, wandering the city, or drinking too much coffee. Native to Massachusetts, she will be joining the Massachusetts Air National Guard after graduation. She is currently studying abroad in London, England. Julia hopes to continue traveling as she explores the arts and culture industries in her future.
Follow Julia on Twitter
@juliaahaesy
Email her at
[email protected]