Job cuts at the Hyatt incite protests
Article By: Brayden Varr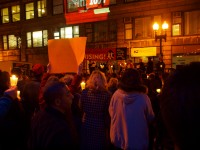 The Hyatt Regency, on De Lafayette Ave., which houses Suffolk students, laid off 100 housekeeping staff members on Aug. 31, stripping them of their $15 to $17 per hour pay rates and health benefits, and then they hired staff from a Georgia-based outsourcing company for $8 per hour and without benefits.
The Hyatt offered the people whom they laid off lower paying jobs at the same outsourcing company that replaced them.  Only six of the laid off employees took advantage of this proposal.  In the past two months, only sixteen workers have found other jobs, leaving seventy-eight still unemployed, according to Reuters.
On Sept. 17, thousands of people gathered outside of the Hyatt, banging on drums, rattling detergent bottles and chanting, "Shame on you Hyatt."
US Representative Michael Capuano and state Senator Anthony Galluccio called for a boycott on the Hyatt.
"If we let them do this, another hotel will do it, and then another business and so on," said Capuano, according to the Boston Globe.
"The Hyatt made a crude business decision…My administration stands for these workers and will continue to fight for all our people," said Mayor Menino according to the Globe.
A key argument against the Hyatt was the process taken towards hiring the new workers.  Many of the previous employees were instructed to train the new employees and once their training was complete, they were released.
Bi-weekly demonstrations have been going on in front of the Hyatt since Sept. 17 and last Thursday a candlelight vigil was held in front of the Hyatt.  Hundreds of people gathered in support of the 100 workers who lost their jobs and health care rights in hopes that they will find new careers to support their families.
Hotel Workers Rising, and group that organizes strikes and boycotts against Hotels they deem unfair to employees, are aiding in the fight for the "Hyatt 100," as this scandal is commonly referred to. Hotels Workers Rising have a trailer based right outside of the Hyatt hotel.
The Hyatt's decision not only affects Boston, but the rest of the Hyatts throughout the nation. The Globe reported that the Coalition of New England Companies for Trade that holds a regular event at the Newport Hyatt has now decided to look elsewhere, according to Reuters.
Many of the students who reside in the Hyatt are strongly against this decision.  Meghan Jossick, 2013, "doesn't like being associated with something represented so poorly."
Freshman Whitney Denehy, who was raised in a family of union workers, said she wouldn't go to the Hyatt even if she was assigned to live there. Denehy is a resident of Miller Hall.
The Hyatt attempted to legitimize their decision by using the economic recession as an excuse.  "Due to unprecedented economic environment, the Hyatt Hotel in Boston has had to make very difficult decisions to adjust the costs in response to the continuing decline in Revenue," said a Hyatt representative in a statement.