Keke Palmer speaks with Suffolk students about self-love and racial justice
Actress, comedian, singer-songwriter, Emmy-winning television host and social activist Keke Palmer led a powerful discussion about self-love, Black Joy and racial justice at a Suffolk University Zoom event on Feb. 28.  
The event, hosted by Suffolk University's Black Student Union as part of its Black History Month celebrations, focused on Palmer's experiences as a creator and a woman of color, along with the lessons she has learned during her career. 
Palmer is best known for her appearances in "Akeelah and the Bee," "True Jackson, VP," "Hustlers" and several other films and series. The 27-year-old started her career in the creative industries in 2006, and has since become the youngest actress to receive a SAG award nomination in a lead actor category, and the youngest talk show host in history. 
Once filming on Hollywood sets were put on hold during the pandemic, Palmer was able to re-engage with her music and release her EP, "Virgo Tendencies, Pt. I and Pt. II."
"It really kind of gave me way to actually focus on one of the only things I can do by myself, which is singing…" Palmer said. "When I'm going through something or I'm unsettled or unsure, I always go to a creative outlet and so you know it was fun to be able to spend more of that time with music." 
She shared that part one of her EP was created as a "fun, light-hearted" escape in the darkness of the pandemic, while part two exists as a reflection on the year, and what she was able to learn and overcome during it.
Palmer highlighted her song "Grew From You," as one of her favorites because of the way its upbeat tempo speaks to how she has evolved from the difficulties of the year.
"At the end of the day, it's not sad that we grew from something. Whether it be in a relationship or growing out of immaturity, we didn't realize we had… I grew from you. I'm not bruising like I used to. My bounce-back rate is even faster than before…" said Palmer. 
Suffolk students Lariona Jacobs, Alexandria Onuoha and Caroline Almonte spoke with Palmer about the evolving importance of self-care and the best way to invest in yourself. They emphasized that students should be selfish at times and make sure their health is a priority. 
"Self-love is going to be an intrical part. That's just as important to chasing my dream as anything else I need to do to get there. I have to take care of me," said Palmer.
Palmer encouraged students to schedule time for rest in advance as a form of self-love. 
"We have the common sense to know that I'm not going to drive my car non-stop for four days straight because I'm going to need to stop for gas. And that's not because I'm stupid. That's because that's how it works," said Palmer. 
She added that setting boundaries early in both romantic and platonic relationships, and communicating effectively, helped her grow and take care of herself. 
"I had to start saying like, 'You know Keke, give people a chance to be your friend and give yourself a chance to be a friend.' Because you're not helping anybody by not telling them the truth…" said Palmer. "If I want respect in a relationship or I want to be treated a certain way, then I have to demand that by being assertive to a certain degree and direct." 
She is thankful for the support system her family created for her throughout her career, and gave the advice to surround yourself with people who will not try to change you.
"People have to see you as you are. You don't want people around you that are too overtaken by you… It's about finding the balance of people that just want the best for you and you also want the best for them," said Palmer. 
Throughout the webinar, she often returned to her message of being true to yourself and not being influenced by others' perception of you. She also encouraged the audience to take a stand for what they believe in. 
When asked what "Black Joy" meant to her, Palmer shared that it means being true to yourself, coming together as a community and "being free."
"At the end of the day, we are all fighting against ideals, identities, concepts of who we should and shouldn't be. We are fighting against generational trauma and just what we were told that 'This was the way it was,'" said Palmer. "We're all coming up against all of that… when we just decide to bring us to the conversation and not allow other people's perceptions of us to be the perceptions of ourselves, that's when we're living in true truth and freedom." 
Palmer uses her platform as a famous multi-talent to advocate for human rights. Most recently, she has taken a stand on behalf of the Black Lives Matter (BLM) movement. 
During the discussion, she responded to an audience inquiry about a viral video from a June BLM protest featuring Palmer pleading with National Guardsmen in Los Angeles to "March beside us and show us that you're here for us," as she said in the video.
"I was looking at him as a brother, as a human brother. Because I know, I know there's a heart. I know that you don't want to do this," Palmer said at the Suffolk event. "But you don't want to lose your job. You got family, you got kids. And the fact that this is what you're up against, it just stinks.
Palmer urged that trust needs to be rebuilt between citizens and their government, and this trust should "come from our trust with each other," regardless of political beliefs. 
She shared that the passion and emotion she was overwhelmed with from the beauty of the togetherness represented by the protest inspired her to speak to the National Guardsmen.
"My heart was opening and breaking for us getting the chance to stand together and prove a point to the world that this is what we see. We see a day when we can stand up as brothers and sisters and citizens and government officials," said Palmer. "We can come together for the greater good. And I think that my heart was just like so heavy with the desire of believing that that's true." 
Palmer talked about how her starring role in an upcoming film, "Alice," has allowed her to look to the past for inspiration to "push the envelope further." She said that while the history Black people have endured stirs fear and pain, this is the moment for change to truly take shape. 
"What I want to see for our people that struggle and that are fighting through the PTSD of what we've experienced in this country is that to know that, yes, there are more opportunities, there are more things that we need to knock down, but look at what's been done," she said.
From entering the film industry as a child and learning from the principles her parents instilled within her about being a Black American in the arts, she shared that she understands the impact representation has.  
"The power that art has to be able to create those kinds of ways and make people feel seen and speak to a whole community – that just lives with me forever," said Palmer.
Follow Julia  on Twitter @juliaahaesy.
Leave a Comment
About the Writer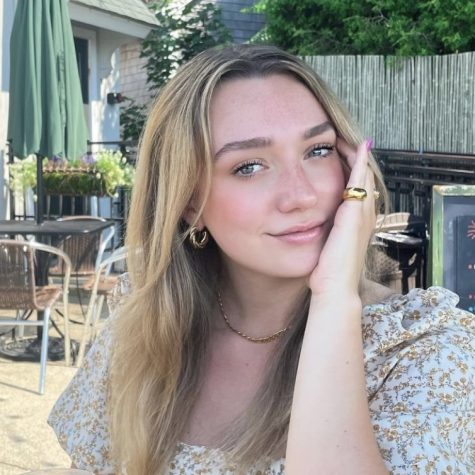 Julia Ahaesy, Opinion Editor, Social Media Manager | she/her
Julia is a senior studying public relations at Suffolk University. Along with her roles of co-opinion editor and co-social media editor at The Suffolk Journal, she writes weekly for her column,
Student and the City
.
On the few occasions she is not writing, you can find her buried in the latest issue of Vogue, wandering the city, or drinking too much coffee. Native to Massachusetts, she will be joining the Massachusetts Air National Guard after graduation. She is currently studying abroad in London, England. Julia hopes to continue traveling as she explores the arts and culture industries in her future.
Follow Julia on Twitter
@juliaahaesy
Email her at
[email protected]