STUDENT AND THE CITY: Is giving out our phone number too much to ask?
Student and the City is a column dedicated to asking the big questions that all college-aged students are asking. It will explore different social concepts within the younger generations regarding relationships, lifestyle, social media and more. 
---
The romance of meeting someone for the first time and "falling" for them seems more like a fictional story rather than a potential reality. If our life looked like any classic '90s movie, this interaction would consist of bumping into someone on the streets of the city—they ask for your phone number and say something like, "Can I take you to dinner?" 
Instead, our generation takes a much different approach. After "sliding" into your DMs (direct messages), it goes more like, "We should chill sometime. Can I get your snap?" Sound familiar? Even after a series of hangouts, many are still hesitant to take things further in the relationship. 
The question is: Is giving out our phone number too much to ask from our generation?
Snapchat has become increasingly popular over the last decade. According to Zephoria Digital Marketing, of the U.S. market aged from 13 to 24, 90% use Snapchat. The average number of Snaps sent every day has grown 25% every year over the last few years.
My friend once received an Instagram direct message from a guy using that exact pick-up line previously mentioned in this article. She reluctantly gave him her Snapchat username which led to them "chilling" several times over a span of months. 
Although they were very intimate together and practically acted like boyfriend and girlfriend in person, they only communicated over Snapchat. They sent pictures of their faces back and forth, that then disappeared immediately, and had little to no conversation. Finally, after doing this consistently each day for over three months, she gave him her number. He ignored it.
Now, a phone number is a step in intimacy that young people are hesitant to take. Is a text or a call too much of a commitment? Is giving out your phone number equivalent to giving out your heart?
As I can only imagine from watching movies or hearing love stories from past generations, giving a stranger your phone number wasn't always that deep. Protagonists in coming-of-age films and TV shows over the last few decades twisted the spiral chord of their landline telephone, talking to different people after dates like our generation send selfies over social media. 
Snapchat is a less personal way of communication. It does not require two people to really get to know each other because a conversation is not socially expected. 
Exchanging phone numbers comes with expectations, such as daily texting or FaceTiming—or the much less popular, calling. It requires two people to talk to each other about their days and their problems, which can potentially lead to an exclusive relationship. Giving your Snapchat username is not a transitional phase—it is a safe, ending phase.
Leave a Comment
About the Contributor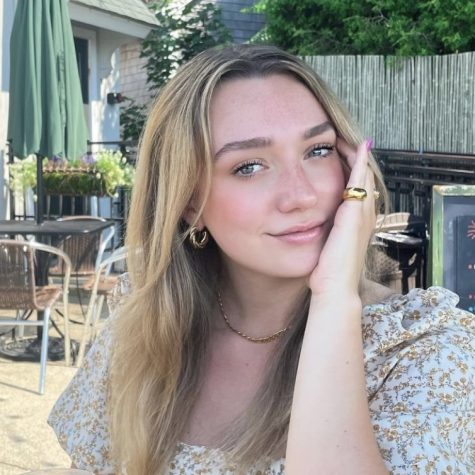 Julia Ahaesy, Opinion Editor, Social Media Manager | she/her
Julia is a senior studying public relations at Suffolk University. Along with her roles of co-opinion editor and co-social media editor at The Suffolk Journal, she writes weekly for her column,
Student and the City
.
On the few occasions she is not writing, you can find her buried in the latest issue of Vogue, wandering the city, or drinking too much coffee. Native to Massachusetts, she will be joining the Massachusetts Air National Guard after graduation. She is currently studying abroad in London, England. Julia hopes to continue traveling as she explores the arts and culture industries in her future.
Follow Julia on Twitter
@juliaahaesy
Email her at
[email protected]