Fantasy Football: Players to Look out for in Week 10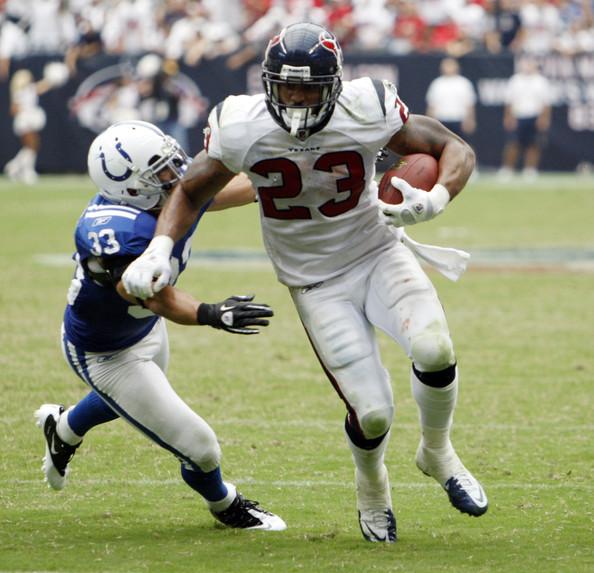 Alex Hall
Journal Staff
It's Week 10 in the NFL season and that means one of two things for fantasy managers. You're either trying to make that push into the fantasy postseason, or you're just trying to play spoiler to those postseason hopefuls after a rough season. Regardless of what place you find yourself in this season, nobody wants to lose after preparing their roster all week long. I'm here to give you a little advice on who will help you walk out of this week with a big fantasy win.
Giants RB Ahmad Bradshaw against the Dallas Cowboys
Despite what Jerry Jones and the Cowboys fans would like to believe, the Cowboys players have all but packed it in for the season. If you want proof just check out how many Packers players were able to line up and block DeMarcus Ware last Sunday night on national television. The Cowboys defense is ranked a porous 24th against the run this season and last time Bradshaw played Dallas he ended up rushing for 126 yards on 24 carries. In fact in three of the Giants' past five games Bradshaw has rushed for over 100 yards. And despite being shut down in Seattle last week, he's rushed for at least 67 yards or more in every game he's played this season for the Giants. Don't expect these underachieving Cowboys to shut down the Giants' premier running back this Sunday.

Colts WR Reggie Wayne against the Cincinnati Bengals
In case you were thinking about sitting Reggie Wayne for whatever reason, just don't. For starters, the Bengals are 17th in the league against the pass and last time I checked Peyton Manning was still under center for Indy. Reggie Wayne has been Manning's favorite target for several seasons now. And if you throw out the Houston game, No. 87 has had 65 yards or more receiving in all eight games played this year. That includes his 15 catches and almost 200 yards receiving against the Jaguars in Week 4. Trust me, you're not going to want Reggie Wayne sitting on your bench this Sunday.
Texans RB Arian Foster against the Jacksonville Jaguars
Foster may not be as well known as Felix Jones or Joseph Addai, but he sure has better numbers than both of them this season. One of fantasy's most underrated running backs this season goes against the 22nd ranked rushing defense in the league. Foster is coming off a 127-yard, two-touchdown performance against the Lightning Bolts, who are currently the fifth best rushing defense in the league. There's no reason to sit Foster against any defense as he is putting up Pro Bowl-worthy numbers on a team that's supposedly all about Matt Schaub and Andre Johnson. The Texans' running back should have a field day against this Jaguar defense on Sunday.
Eagles Michael Vick against the Washington Redskins
Speaking of Pro Bowl-worthy players, you should probably start Mike Vick if you have him. Period. As an added bonus, the Redskins are the second-worst defense in the league, which bodes well for fantasy football's favorite quarterback. He ran for 74 yards and a touchdown as well as passing for 218 yards and a touchdown through the air. Despite being out due to injury for a month, Vick didn't miss a beat against the Colts last week. He's a quarterback that can get you as many points with his feet as he can with his arm; you can't ask for much more from a quarterback in the world of fantasy.