Comedian and beloved actor Adam Sandler is known for his oddball, but still likable, characters that have defined his movie career, and his new Netflix comedy "Hubie Halloween" is no exception
After recently starring in the critically-acclaimed crime drama "Uncut Gems," where Sandler played a more serious character, he is once again back to his comedic roots in "Hubie Halloween" as the funny-voiced town-snitch, Hubie Dubois. 
This Netflix movie was produced by Happy Madison, Sandler's production company, and follows the kind-hearted Hubie as he keeps watch over his hometown of Salem, Mass. on Halloween night, getting the audience in a spooky spirit. 
Hubie is of the most hated people in Salem due to his strange demeanor– town folks mock him and play tricks on him and young school boys chase him on the street. But Hubie did not let this bring him down as he strived for a very memorable and safe Halloween experience in Salem as the "official volunteer Halloween helper." 
The only two people who don't belittle him is his childhood crush, Violet Valentine (Julie Bowen) and his caring mother, Mrs. Dubois (June Squibb), who later, in an unexpected turn, takes matters into her own hands to stop Hubie's town bullies.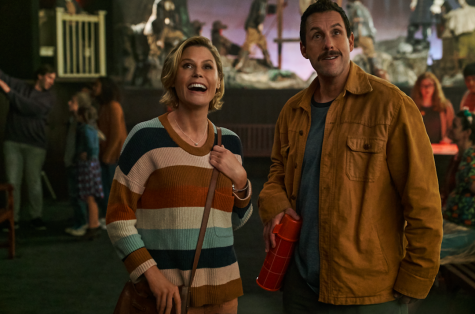 There is no shortage of a star-studded cast during the 90-minute movie, which included actors who were new and old to the Sandler universe. Maya Rudolph, Ray Liotta, Steve Buscemi, Kevin James, Ben Stiller, Rob Schneider, Shaquille O'Neal, Noah Schnapp, Karan Brar, Paris Berelc and more all make some gag appearances throughout the movie. 
As with many of Sandler's movies, "Hubie Halloween" is a goofy movie that purposely feels bad. Yes, it has unintelligent characters like Hubie's mom, who unknowingly wore a shirt that said "Boner Doner" on it, which became a punchline throughout the movie, but Sandler provided a much needed comedy relief from the crazy year of 2020.
However, there seemed to be several inconsistencies and too many separate events happening in the movie that took away from the plot. The movie starts out with a patient escaping a mental hospital– a scene that seems like it's going to be a major part of the story. But that storyline falls flat and doesn't seem to play a significant role later in the movie. 
Additionally, as Hubie is trying to save Halloween, one character is hitting on an underage girl, the local news crew are screw-balling reports and an irresponsible police officer ignores calls for help. Aside from the entertainment value, all these different occurrences just clash and make the viewing experience awkward and frustrating at times.
After Sandler was snubbed an Academy Award nomination for his memorable performance as a jeweler in "Uncut Gems," he went on the Howard Stern Show to say that his next movie will be bad on purpose. There is certainly speculation that "Hubie Halloween" is that movie Sandler was talking about, further proving that even Sandler doesn't care if you think this movie is awful– it's purely for entertainment. 
Massachusetts residents may also see some familiar sites during the movie as it was extensively shot on the North Shore last summer. The Salem Common, Salem Witch Museum, and the towns of Danvers, Marblehead and Beverly were all transformed into a magical Halloween playground that brings the movie to life. 
Despite the happy ending of the Netflix comedy, the credits end on a sad note with a tribute to the young Disney actor Cameron Boyce, who died unexpectedly in July 2019 at 20 years old due to a seizure. Boyce worked alongside Sandler in the "Grown Ups" franchise.
"Hubie Halloween" definitely isn't Sandler's best comedy, as his classics take the prize, but this movie is filled with heart once you peel back the stupid, but hilarious jokes to see that Hubie is simply trying to help his community of Salem in times of trouble.
Follow Sarah on Twitter @thesarahdipity.