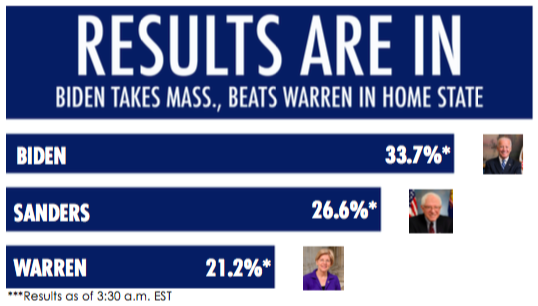 In the week preceding Super Tuesday, the Democratic party saw three candidates either drop out of or suspend their bid for candidacy.
Billionaire Tom Steyer dropped out of the race on Saturday. Mayor of South Bend, Indiana Pete Buttigieg suspended his campaign and dropped out of the Democratic Primary in order to sup- port Joe Biden. Minnesota Sen. Amy Klobuchar also suspended her candidacy and urged her voters to support Biden, according to The New York Times.
The former vice president is hoping to use the aid from both Klobuchar and Buttigieg's supporters to further support his presidential bid. Former Texas Rep. and former Democratic presidential candidate Beto O'Rourke also endorsed Biden.
Buttigieg and Klobuchar's delegates will not be allocated to other candidates due to their campaigns being suspended. This protects delegates from being real- located to the remaining candidates, according to the Washington Post.
Many believe Buttigieg and Klobuchar's dropping out and support of Biden is an effort by moderates to stem Vermont Sen. Bernie Sanders' hold of the democratic bid as of Monday evening.
Buttigieg's support of Biden and rejection of Sanders comes 20 years after Buttigieg won a JFK Library essay contest in high school with an essay that praised Sanders, who at the time was a little known Vermont Congressman according to Boston.com
Going into Super Tuesday, Sanders was leading the pack with 60 delegates, with Biden at 54 delegates after his win in South Carolina, according to Politico.
The same Politico map shows that Massachusetts Sen. Elizabeth Warren held only eight dele- gates. A major loss for her was New Hampshire, Massachusetts' sister state to the north, which had its delegates split between Buttigieg and Sanders, with Klobuchar taking third.
Former New York City Mayor Mike Bloomberg's campaign announced Tuesday that Bloomberg would reassess his campaign Wednesday in the wake of a disappointing Super Tuesday, according to the AP.
Fourteen states across the United States held primary elections on Tuesday, including the home states of Massachusetts and Vermont for Warren and Sanders, respectively.
According to AP results at 3:30 a.m. EST, Biden won Virginia, Arkansas, Alabama, Oklahoma, Tennessee, Massachusetts, Minnesota, Texas and North Carolina, with 90+% reporting in the nine states.
Sanders has won his home state of Vermont, with 100% reporting according to AP. He also won Utah, California and Colorado. Warren is not projected to win any states, while Bloomberg has won American Samoa.
Both Sanders and Biden both received 8 delegates from Maine, with Warren earning 2 according to AP results at 3:30 a.m. at 81% reporting.
4,581,319 people registered to vote in Massachusetts this year according to the Secretary of the Commonwealth of Massachusetts' website. Of that number 1,491,600 people are registered as democrats with 462,586 registered as republicans. This leaves 2,564,076 as not enrolled for a political party for the state of Massachusetts.
In a surprising twist, Biden has won the state of Massachusetts, with 33.7% of the vote at 3:30 a.m., with 91% of the state reporting, according to AP. This grants him 34 of the 91 available delegates of the Bay State. Sanders follows him with 26.6% of the vote and 26 delegates. Warren, who is a senator for the state, has received only 21.2% of the vote and 17 delegates.
As of 3:30 a.m., Politico's map of the Democratic primary projects Biden leading the pack with 450 delegates, Sanders with 376, Warren with 48 and Bloomberg with 43, nationally.
Journal Staff Writer James Bartlett contributed to this report