Brattle Book Shop: a hidden gem in the Suffolk community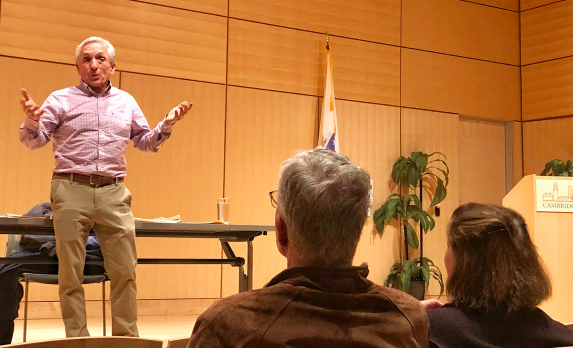 On sunny afternoons, just across the street from Suffolk University's 10 West residence hall, rows of books fill an empty lot surrounded by illustrations of novel bindings. Book enthusiasts filter between the rows and eventually make their way into the Brattle Book Shop.
Many Suffolk students walk by this view every day. For the shop's owner, Kenneth Gloss, scenes like this have been the backdrop to his family's life since they bought the business in 1949.
Gloss, best known for his frequent appearance on the PBS television show, "Antiques Roadshow," discussed the value of old and rare books to a crowd of readers and antique-lovers at the Cambridge Public Library on Feb. 12.
"The real value of books is the knowledge in the books and the dissemination of that knowledge – and I think that's a really great trade-off," said Gloss.
Gloss inherited The Brattle Book Shop from his father. He has been working with books since the age of five and has had a deep love for them ever since.
He joked with the audience at the event that his parents said his first word as a baby was "book." Even after receiving a bachelor's degree in chemistry, Gloss decided to dedicate his life to the book business.
"The chemistry degree was very, very valuable to me. I could have been a chemist, but when I came to work at the store, I knew I could do something else and my father knew I could do something else – and that was probably worth the whole education because otherwise I might have felt trapped," said Gloss.
The shop has always been in Boston. It first started on Brattle Street in the early 1820s and has had seven different locations since then.
Gloss's father moved the store to West Street in 1969. After holding a sale, his father opened the doors to hundreds of people and gave away 250,000 books.
"At the end of the giveaway, there were books left over. He hired a covered wagon with a cowboy and a horse team and on the cover of wagon it said: 'Go west book-lovers, go find West St. Brattle Book Shop,'" said Gloss. "They filled it up with books and they drove it with my father sitting in the back throwing out books the whole way."
In 1980, the 5-story book shop burned down to the ground in a devastating fire. With an optimistic and motivated attitude, Gloss has been building his shop back up ever since.
Gloss is a member of multiple bookseller and antique book associations. When he's not in the shop, Gloss spends his time traveling, appraising libraries across the country. He is often found at several university bookstores, including Harvard University and Boston University. His favorite part of his job, however, is going out to different states and meeting all different people who show him interesting antiques.
"Almost anything you can think of, there are people out there who are interested," said Gloss.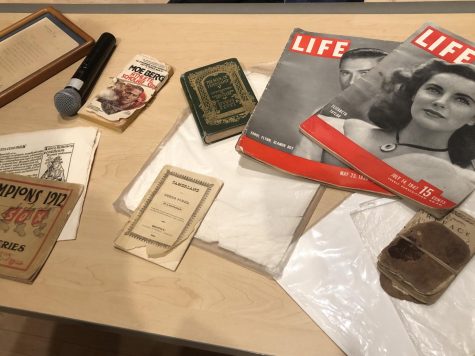 As examples, he presented a few antiques that he has at his shop. He held a program from the 1912 World Series where the Red Sox won against the Yankees. He also showed a brochure that explained how to purchase passage on The Titanic. The audience viewed two antique "Life" magazines from the 1940s– one with Eroll Flynn on the cover, and the other with Elizabeth Taylor when she was 15 years old.
"A lot of the fun in collecting is learning about something, is studying, is appreciating them," said Gloss. "It is really good knowledge that makes something interesting and more valuable."
He is an expert at knowing the value of all books. In his talk, he said that a book is most valuable when it is historical, in great condition and signed by the author.
Sue Bell, an event coordinator at the Cambridge Public Library, thought that Gloss would be a great guest speaker to invite to the library.
"Our patrons are book lovers so they're really interested in history of books and I think a lot of people are really drawn to learning more about them and having someone – an expertise – who can tell them something more about those books you've been holding onto at home," Bell said.
Becky L in, who attended the lecture, said she enjoys going to old book stores and looking around.
"I have always loved old antiques – I am a bit of a history nerd. So when I saw this event I just thought, why not?" said Lin.
The Brattle Book Shop is one of America's oldest bookshops, located on 9 West St. The shop sells $1 books to rare finds worth thousands of dollars. Gloss also has a podcast called "Brattlecast," where he shares entertaining stories about his adventures finding antiques and working as a bookseller.
About the Contributor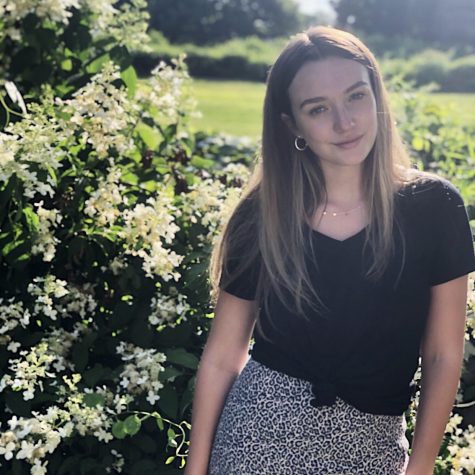 Julia Ahaesy, Opinion Editor, PR Team | she/her
Julia is a junior at Suffolk University. Aside from her passion for journalism and writing, she enjoys theatre, fashion, music, and exploring Boston. She is native to Fall River, Massachusetts and studies public relations with a double minor in English and theatre.
Follow Julia on Twitter
@juliaahaesy
Email her at
[email protected]