Andrea Gibson brings stories about love to Boston during spoken poetry show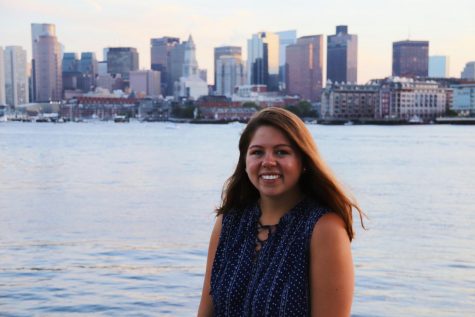 More stories from Morgan Hume
Meeting a girlfriend's parents for the first time, suffering from an unknown but debilitatingly painful illness and buying a toy snake at a church yard sale to use as a makeshift dildo were all personal anecdotes spoken poet Andrea Gibson was willing to share on stage.
Gibson performed at City Winery on Feb. 10 and Feb. 14. The shows, which were a part of their "Right Now, I Love You Forever" tour, were comprised of poems from different collections of theirs about love in all forms
Musician Lara Ruggles joined the writer on stage to sing lyrics, written by Gibson, over a soothing piano. This arrangement created a new dynamic for Gibson, but the melodies complimented their words and added a unique element to their stanzas.
Gibson admitted to the crowd that they are normally screaming at the patriarchy, discussing politics or trying to send a message about mental health. Over the poet's years of writing and performing, this is the first show they have ever done that focuses entirely on love, setting it apart from previous performances.
"I've never not been inspired to write about love. It's really all I ever want to write about," said Gibson in an interview before the show. "Unfortunately, the world is a mess so there are other things my attention is called towards."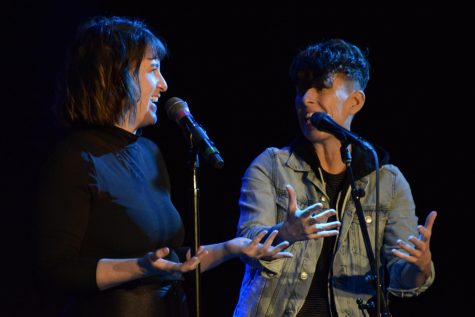 Gibson said for this tour, they relied less on poetic devices and more on directness, which has morphed into a personal and vulnerable show. Throughout the night, Gibson discussed some of their past relationships, joking that their editor Megan Falley was a good sport through the process of editing the show, since she is also Gibson's partner.
In the beginning of the evening, Gibson touched upon the difficulties queer couples face to stay together when society wants them separated, and how some remain close even after a break up. They recited poems about their own heartache, like a relationship that ended after seven years.
Gibson also decided to read their gripping poem "Orlando" from their 2018 anthology "Hey Galaxy," which artfully depicts the 2016 Pulse Nightclub shooting that killed 49 people in Florida. As Gibson's chilling words and imagery echoed over the microphone, the audience felt as choked up as they were.
The poet also incorporated themes of love into their writing about battling chronic lyme disease. In one poem, they open with the line "I first got sick in 2003 and as much as I've tried, illness has been one relationship I have never managed to leave." They later describe their blood returning to a normal color, not because of seeking help from specialists or taking new forms of medication, but because of falling deeply for someone.
Gibson said that they get shy about talking about their struggle with illness, but they still bravely shared the poem.
"It was a really vulnerable experience and one that opened my heart in a new way," said Gibson. "To slow down, to be hyper present with my own emotional world, and to speak with people as in conversation. It was a new kind of honesty, and a new kind of knowing myself."
Although the performance was heavy, not every poem was gloomy. In the middle of the show, Gibson spoke about self-love, confessing that they did not know what self-love really meant for most of their life. Then, they had the audience think of something they loved effortlessly, like a pet dog or a parent, and then explained the velvety sensation that washed over them is how self-love feels.
Towards the end of the show, Gibson was joined on stage by Falley and the couple read the poem "Fight For Love" together. The pair humorously showed all the petty arguments they've experienced that they can look back on and laugh about now.
Gibson noticed that this show was more tender, both because of the writing process and that they were yelling less on stage than normal. Their straightforward approach is another way the artist has stepped out of their comfort zone.
"There is safety in metaphor for me and there is less of that in this particular show," said Gibson.
Gibson is continuing their tour through other U.S. cities to bring audiences a sense of warmth with more nights of compelling and honest poetry, just like this one.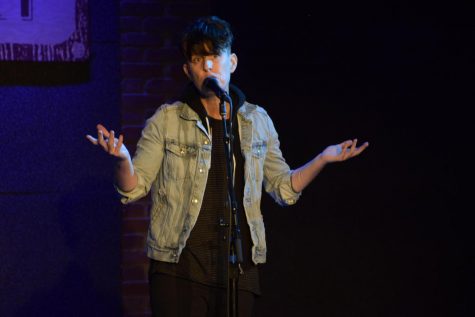 Leave a Comment
About the Contributor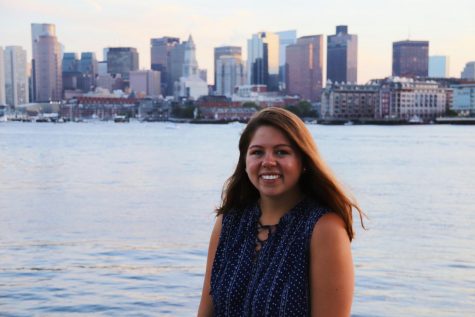 Morgan Hume, Arts Editor | she/her
Morgan is a native of Troy, New York and the Arts and Culture Editor for The Suffolk Journal. She is a rising majoring in print/web journalism and minoring in history. When she isn't scribbling into a notebook, she can be found drowning herself in cups of coffee, singing too loudly in the shower and exploring Boston, the historic city that has quickly become her home.
Follow Morgan on Twitter
@morganmhume