No ordinary author: Jaquira Díaz visits Suffolk to discuss childhood upbringing and new memoir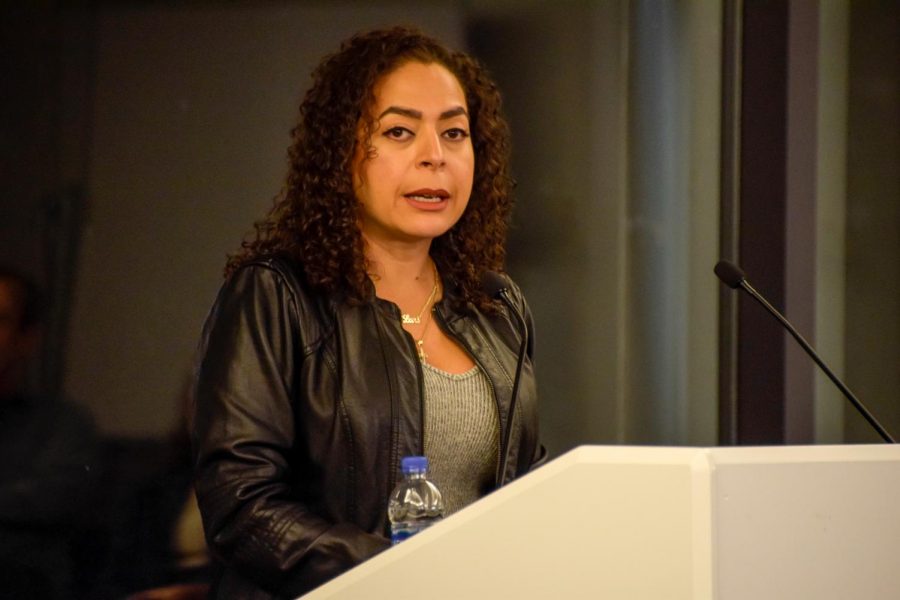 Jaquira Díaz has not had it easy. She lived in poverty, dropped out of high school and was raised by a parent that suffered from schizophrenia. Yet somehow, not only did Díaz survive it all, but she managed to put it down on paper in a stream of poetic words.
The author came to Suffolk University on Jan. 21 as part of the English Department's visiting writer's series. Díaz is a distinguished writer whose essays have been featured in numerous publications, including Rolling Stone and T: The New York Times Style magazine. She read from her new memoir "Ordinary Girls" inside the Blue Sky Lounge in Sargent Hall.
The memoir, published in October 2019, shows Díaz navigating through girlhood. She talks about her life through various phases, like growing up in a housing development in Puerto Rico, experience with sexual assault, her time in the United States Navy and her making a career as an author during adulthood. She said she thought "about how [her] story could say something about the larger world."
Díaz shared a heavy passage from one of the chapters of "Ordinary Girls." The selection she read from was about her experience running away from home as a teenager in Miami and hitchhiking to Santa's Enchanted Forest for a day of amusement park rides, fried food and Christmas decorations. Later, she was sexually assaulted by the man that drove her there.
Although the incidents discussed in the book are memories from the past, Díaz had to find ways to step back into the mindset of her teenage self, including looking back on diary entries she wrote in her adolescence.
Díaz also returned to some of the places of her youth, like her old high school and neighborhood. She reminisced by riding the bus on the same route she used to when she was a kid. She compared writing to method acting because for both, she needed to see herself as a character and question how that character would think and feel.
"[I had to] think about what it was like to be that 14-year-old very vulnerable girl riding that bus alone," said Díaz.
The author moved back to Miami in 2014. She explained to the audience that it's difficult to see gentrification change her hometown as small businesses continue to close their doors for good and tourists visit in increasing numbers.
"It's also heartbreaking for me to walk around my neighborhood where an old mom and pop restaurant is now a Banana Republic," said Díaz.
Díaz explained that music was another important tool that helped her craft "Ordinary Girls." She compared her writing process to composing because she maintained a certain rhythm and flow. For example, she said the specific passage she read to the crowd feels like it rushes because it's trying to get through so many things.
"That was one of the most difficult chapters to write for me, but the music is what got me there," said Díaz.
In addition to listening to music, Díaz said it helps to read her writing out loud. She often records herself reciting her drafts so she can hear the parts of the story that may sound unclear or need improvement. She noted that while she may read the story in a certain way, different readers digest books in different ways.
"I think after you write a book, the reader owns it and however it sounds right to them is how it should be," said Díaz.
The process of writing "Ordinary Girls" was not easy, but Díaz knows her experience is not isolated. The author understands that other people have had similar things happen to them, which is why she wanted to share her own story.
Suffolk freshmen, Bria Dequattro and Liliana Kotval agreed after the event that while they may not share Díaz's exact childhood, they see themselves reflected in some of her words.
"I like how she said that she speaks for all women, and all women are a part of that time," said Kotval. "It's not just her experience, it is specific to her but it can be broad too and for every woman."
About the Contributor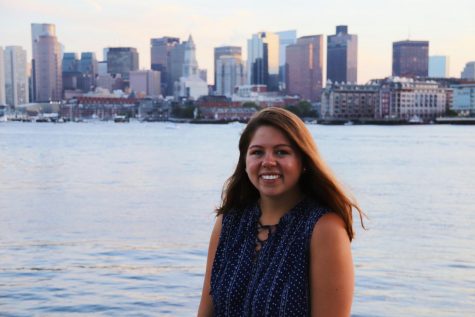 Morgan Hume, Arts Editor | she/her
Morgan is a native of Troy, New York and the Arts and Culture Editor for The Suffolk Journal. She is a rising majoring in print/web journalism and minoring in history. When she isn't scribbling into a notebook, she can be found drowning herself in cups of coffee, singing too loudly in the shower and exploring Boston, the historic city that has quickly become her home.
Follow Morgan on Twitter
@morganmhume