Cheer club no longer tumbles under radar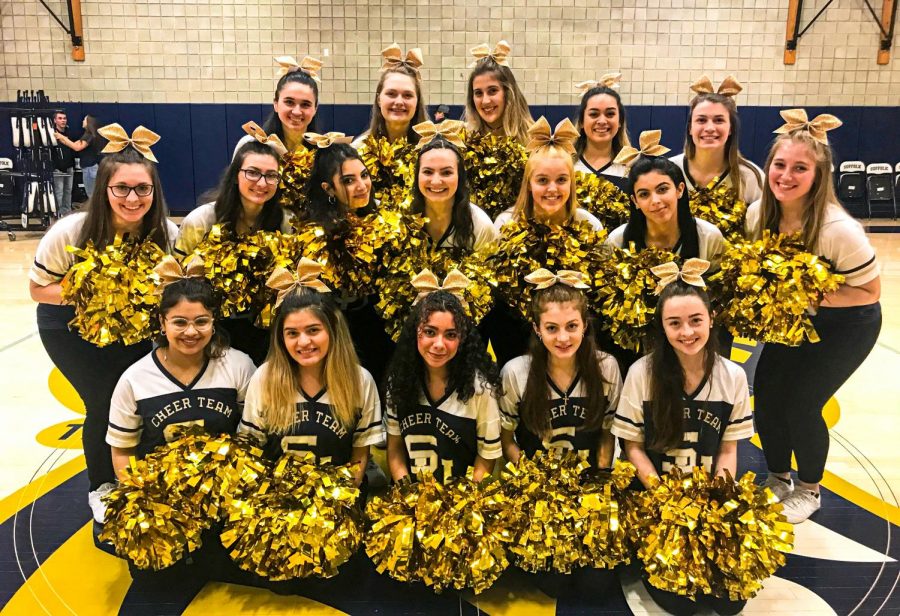 The Suffolk Cheer Club has many goals, but their biggest aspiration is to join the Athletics Department as a varsity team.
It's been almost four years now that the club was revamped and brought back to campus. In that time the group has made tremendous strides towards recruiting members and making their presence known to Suffolk students.
"That whole development of going from club to sport, you have to be really committed to it if you want to make it happen and you get really invested without realizing how invested you are," said Cheer Club member Sara Nelson.
This year the group has about 20 members who perform during the home men's basketball games. Out of those members 16 take part in competitions with the group.
Through the leadership of the club's eboard, the group has continued to work on this goal along with many others. Eboard members include President Briana Zwicker, Vice President Jules Alicea, Secretary Jordan Perry and Nelson is the PR Chair. Getting people to stay in the club has been a struggle as the eboard are the only returning members to the club.
"We're a club, but we're a team and like any team activity you have to be able to trust and work with other people and I feel like that really gets people to open up," said Perry.
Currently the club is between practice spaces utilizing the Smith Court and classrooms in the Sawyer and Samia buildings. Zwicker said this has been one of the biggest challenges the group has faced as many other clubs and teams also require these spaces.
Outside of spaces at Suffolk the group has practiced at Gymnastics Academy of Boston in Cambridge. Here the club has also worked on their tumbling for the first time as a group. Their hard work in the past to expand as a club has paid off, as they were given their largest budget so far this year.
Members of the club explained that one of the best parts is the diverse group of women that they get to join. Cheer experience also isn't needed to join the club as they welcome people with all skill levels.
"It just gives people who aren't as comfortable putting themselves out there, kind of a place to break away from that and I know that we have a few girls now who have started to break out of their shell a little bit more," said Alicea.
Another goal of the club is to compete at the NCAA National Competition in Daytona, FL. With the competition in April, the club is now preparing a possible routine and practicing as much as they can. In the coming weeks they'll participate in a camp where a trainer will come in and help them perfect this routine. This will earn them a bid to go to Nationals and even help lower the cost of the trip.
To help pay for this trip, the Cheer Club has done a great deal of fundraising around campus. They also for the first time got permission to fundraise during basketball games.
Since Suffolk doesn't have a traditional campus feel, many of the typical campus events such as pep rallies are lacking. The Cheer Club said that they hope to change that in the coming years by bringing even more of a sense of pride to events and athletics at Suffolk.
"Getting people on campus to actually want to do things is very tough and they don't have anything that's a spirit program or anything to really hype up people and not that we're necessarily there yet, but in the future given the chance that it would make Suffolk feel a little bit more like a school with a campus feel," said Zwicker.
In order to accomplish this, the club hopes to partner with other groups on campus to join forces on this cause. Right now they're in talks with Suffolk's fraternity Sigma Alpha Epsilon on a possible basketball tournament with a pep rally.
The Cheer Club has many ideas moving forward, but for now their focus is on reaching Nationals. This year the eboard said they feel like they've finally seen students around Suffolk's campus acknowledging that they are an established club. They hope this will help their campaign towards becoming a varsity team in the future.
"At least people are noticing us now and if people are noticing us that means the schools noticing us more too. We as a cheer team are getting recognized more now," said Perry.