Who's Askin' delivers despite difficulties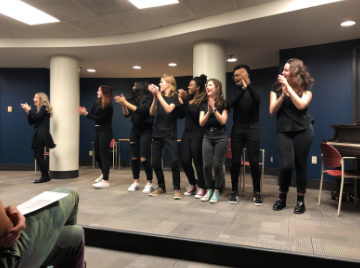 Hang on for a minute...we're trying to find some more stories you might like.
From the corner of Boylston and Tremont, to Australia and even to the doors of heaven, Who's Askin' brings the audience to different places and situations, leaving them laughing along the way.
Despite an eventful week full of difficulties, the sketch comedy group held a confident and entertaining show Saturday night in the basement of Smith Hall. The overall emotion expressed by the group was pride for the performance.
"A big strength for us this show was how well prepared we were. We knew our lines and committed to the bits," said Katie Johnson, the lead writer of Who's Askin', in an interview with The Suffolk Journal.
The energy coming from the actors on stage really helped with the performance. The audience was engaged and captivated in the show. There was even interaction with the audience, including some cast members sitting in the audience during the sketch "Dr. Seuss Cult."
The actors ad-libbed and created a comfortable and entertaining environment while showing off how funny each of them are.
"Going from a show where we had to be on-script to being in an off-script show gave us the confidence to play around a little bit with the material," said new member Kayla Dalton in an interview with The Journal.
Dalton enjoyed her experience with the show.
"I think the second show was really good. The crowd really helped. Having props made a big difference as well," said Dalton. "We worked hard on it and I'm happy with how it went, especially being our first one off-book."
Johnson also expressed her pride in the group.
"I don't think we had anything crazy happen either night, so I'm very proud of our new cast this year," she said. "Definitely in the past, we've been less confident and we were definitely really set this time."
The lead up to the show was different to the final outcome. Earlier in the week, Who's Askin' President Charles Tang had gone on crutches and within five hours before the show, two people could no longer make the performance due to work and illness. This was also the group's first show they had done on back to back nights.
"We always bounce back pretty quickly when we have to recast quickly," said Johnson. "Everyone that was put into a role last second was really on top of it. Some even memorizing when we told them they could do it on-book."
The group's ability to adapt to these setbacks was impressive. Even with such little time to adjust, it was hard to tell there was any trouble backstage. The audience kept laughing along with the well-timed jokes.
"Our main goal is always to make people laugh, but to do it in a smart way. We want to earn those laughs," said Johnson. "We also know the more fun we have, the more likely the audience is to have a good time."
Taking on current topics from the vape ban to a microwaved fish incident in Smith Hall, the skits were executed confidently.
Who's Askin' will be having another performance on Nov. 22 and Nov. 23 at 8 p.m. in Smith Hall's basement.
About the Contributors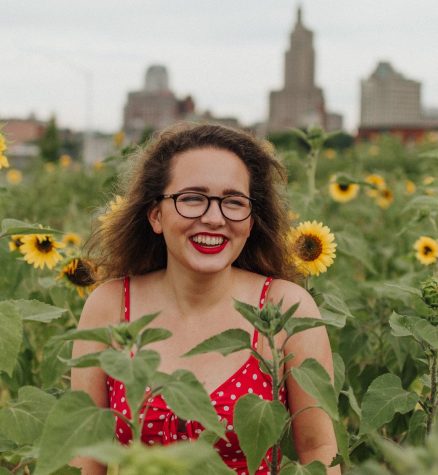 Emily Devlin, Assistant Managing Editor
Emily is a print/web journalism major and art history minor at Suffolk University. She loves traveling around Boston from museums to sports games. History is a significant interest of hers. She believes looking towards the past will help prepare for the future. She wants to learn as much in life as she is able to. Emily spends her free time wandering around the MFA, reading, writing, and listening to music. After college Emily hopes to work in a museum.